Nicky Pellegrino speaks to a man who sees a bright future for felony.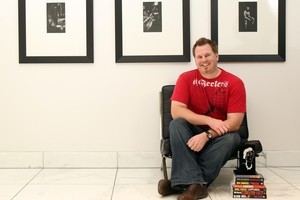 It's been a brilliant year for crime in New Zealand, according to Craig Sisterson - crime fiction, that is. Sisterson is a regular contributor to this page and also the man behind the Dame Ngaio Marsh Awards, now in its second year and doing a sterling job of helping champion the genre.
This year, the panel of seven local and international judges had a bigger job. More books were eligible and they struggled to whittle down the eight titles in the long list to the four finalists.
"It was a particularly tough decision," confirms Sisterson. "The judges were impressed by each of the books on the long list and there was a real diversity of storytelling, settings and styles.
"Everything has taken a solid step forward with the awards this year," he adds. "And there definitely seems to be more depth in terms of New Zealand crime fiction."
Sisterson hopes these awards will do for local crime fiction what the Ned Kelly Awards have helped do in Australia - stimulate the genre and increase the number of crime/thriller/mystery/suspense-type novels written and published. Admittedly last year there were a few hitches. Christchurch's September earthquake forced the cancellation of the ceremony and the overall award went to Cut & Run by Alix Bosco - rather inconveniently an anonymous writer hiding behind a nom de plume, which meant no chance of a publicity shot of the winner clutching the hand-crafted trophy.
With Bosco on the shortlist for a second time, the same thing may happen again, although Sisterson says he's heard a rumour all the finalists may attend the Setting The Stage For Murder event on August 21 in Christchurch, at which the winner will be announced. In the meantime this is his rundown of the four titles that made the shortlist:
Blood Men by Paul Cleave (Random House)
Cleave's prose crackles with energy in this dark tale told from the skewed viewpoint of Edward, an accountant trying to track those responsible for shattering his family. Cleave gets you deep inside the head of a troubled man, and takes you on a great ride story-wise, with plenty of twists in plot and character to keep you on your toes.
Captured by Neil Cross (Simon & Schuster)
Cross vividly takes readers into some uneasy places as dying Kenny seeks to set right past mistakes, discovering that an old friend is missing, her husband suspected but free. It's a page-turner with terse prose powering a pacy story that touches on wider themes like justice, the importance we sometimes place on fleeting events, memory and reality, and concerns about what legacy each of us may leave behind.
Hunting Blind by Paddy Richardson (Penguin)
Richardson's tale of a woman who is trying to uncover what really happened to her sister years ago expertly melds family drama and psychological suspense. Highlights of this novel include the evocation of the South Island scenery, a lingering sense of unease, and the way Richardson delves into the complexity of human relationships and the aftermath of high-profile tragedy; uncovering the very real and ongoing effects after the media circus leaves.
Slaughter Falls by Alix Bosco (Penguin) Anna Markunas is an intriguing heroine - middle-aged and multi-layered - who finds herself investigating a puzzling death from a Queensland holiday. There's plenty of the tension (personal and plot) and vivid action-packed moments that readers (and judges) enjoyed in Cut & Run, but Bosco has amped up the personal, character-based parts of the story, and developed Markunas further as a series character.
* There's a chance to win a full set of all eight long-listed novels. Just email a photo of yourself reading any crime novel written by a New Zealander - historic or contemporary - plus your contact details, to ngaiomarshaward@gmail.com by August 18.