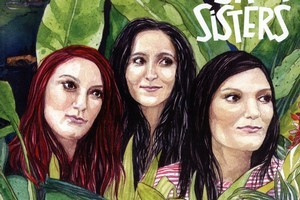 When you have two other sisters to share the burden and jolly you along, there's no need to wallow in the pain of a breakup. Which is why the Sami Sisters' debut album has such a delightful sense of fun, despite the subject being on the gloomy side.
Still this is not a recording of the three sisters standing in a row, singing jokey songs and strumming acoustic guitars. They have evolved into a fully-fledged band, with Jeremy Toy, Ryan McPhun, Wil Mulholland and Isaac Aesili among the musicians adding layers of synth, funk and rhythm to the new set of tunes.
Madeleine has penned more than half the songs on the album - those with the pithiest, cheekiest lyrics, it seems - but the three sisters share the vocals.
Priya, the youngest, lends her sweet, pained voice to Cry, while Anji leads a smoky prelude into the retro-pop tune Oh Boy. Catchy and very clever, the song itself marries a twee 50s chorus with a gritty rhythm track and a story about waging Facebook status wars with your ex-boyfriend.
Anji's How Did We Fall Apart is more of a watery 80s synth-driven love song and needs the hoedown of the most country-folk track on the album Same Ol' Same Ol' to
get the champagne popping in again, because this album is worthy of a wee girly celebration.
Stars: 3.5/5
Verdict: Not just folk and joke
- TimeOut