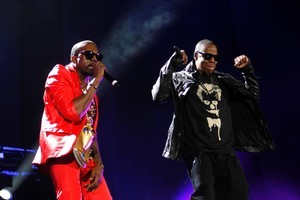 As off-putting as Kanye West's self-important ego is, the guy makes fascinating and often challenging music. So you'd expect a collaboration between himself and hip-hop's other bigwig, Jay-Z, to be something of an innovative triumph. And on tracks like the stealth lurch of opener No Church In the Wild and poppy party tune and album highlight That's My Bitch (featuring an array of famous samples, La Roux's Elly Jackson and even West's lo-fi folky mate Bon Iver), they reach lofty heights.
But Watch the Throne is no Blueprint-meets-My Beautiful Dark Twisted Fantasy. And nor should it be because even rap's two main moguls deserve to let their hair down, or should that be, take their sunnies off, and have a bit of collaborative fun. Thankfully, it's also not their beautiful dark twisted vanity project. It's far more straightforward than West's last opulent and demanding album, even if there are hints of darker confronting forces on Welcome to the Jungle (where Jay-Z, rather scarily, ponders a "black Axl Rose"), and Who Gon Stop Me escalates into stomp and crush territory.
The original idea for this project was to release a five-track EP but after a number of different recording sessions around the world, starting in November last year, it steadily grew into a full-length album. The deluxe edition features four extra tracks including the cocky meander and lashing whips of Primetime and The Joy, with late great funk soul brother Curtis Mayfield featuring.
And Watch the Throne is much more than just West and Jay-Z. Firstly, there are the dead music greats who play a starring role, with Mayfield, James Brown's beats a prominent backdrop (which admittedly is not unusual in hip-hop), and late great soul man Otis Redding hums and wails on second single Otis. Then there's Mrs Jay-Z (aka Beyonce) frontin' in trademark serenade mode ("We gonna take this whole thing to Mars") on Lift Off, and trailblazing producers such as Q-Tip (on That's My Bitch) and RZA (on the smooth vocoder soul of New Day.)
On the latter, Kanye says he doesn't want his son to have an ego (like his presumably) and declares "I might even make him be Republican so everybody know he love white people", which is worth a chuckle. And that's the thing about Watch the Throne, it could do with a few more laughs, and a little more fun. Because while West especially may be self-obsessed, he can also be clever and funny. But at times Watch the Throne comes across as if these guys are almost TOO earnest in their pursuit of their art - and songs like the thuggish Gotta Have It and the forlorn Made In America end up a little dull as a result, compared to That's My Bitch and the powerful rap refrains of Murder To Excellence. Still, along with their many cohorts they remain among the best music makers around.
Stars: 4/5
Verdict: Not quite a crowning achievement from hip-hop's reigning kings
- TimeOut