In Rough Country: Essays And Reviews edited by Joyce Carol Oates
HarperCollins $28.99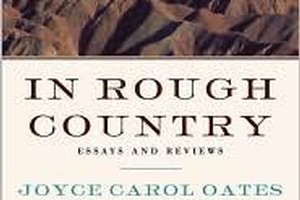 Joyce Carol Oates, a prolific and award-winning writer, has assembled and revised a collection of essays and reviews that originally appeared in places such as the New York Review of Books and the Times Literary Supplement.
The rough terrain of In Rough Country signals the geography along with the psychological dips and peaks of the writers she explores - writers such as Emily Dickinson, Roald Dahl, Annie Proulx, Margaret Atwood, Susanna Moore and Salman Rushdie.
Yet the rough terrain is also personal terrain as these writings emerge from the difficult "soil" from which she wrote after her husband's death. In her moving introduction, Oates confesses that writing about literature was her solace and got her through the melancholy of the night when she could not sleep.
The collection is divided into three parts: Classics, Contemporaries and Nostalgias. I brought two questions to my lingering travels through these divisions.
Does Oates change or enhance the way you view the work of an author? Does she make you want to read or reread the books with which she engages? The answer is a resounding yes.
For a reader accustomed to the economical sentences of the antipodean writer, Oates might present a challenge. She loves the long sentence. Reading her longest examples is a bit like following a thread of cotton and holding tight so you don't lose your way. One example runs to 14 lines, and forms an entire paragraph with an embedded quotation and delicious sidetracks.
At times her language is a little too ornate and veers towards trite analogies. Nabokov's Lolita, for example, is "a shimmering cascade of brilliant passages set like jewels in an elegant tapestry". At other times the ornate language fits: short stories are either subtle like "the unfolding of miniature blossoms in Japanese chrysanthemum tea" or "explode like firecrackers in the reader's face".
The insightful detail of each review is a strength of the collection. In a review of a Bernard Malamud biography, Oates provides a potted history and then justifies why a biography is long overdue and why Philip Davis has written a good one.
Oates suggests most biographies "trudge along the surface of a life, amassing and presenting facts, like rubble on a shovel" but this one offers gems, insights and observations on nearly every page. You can turn this comment around and read it as a way to appreciate Oates' reviews.
I particularly enjoyed the degree of attention Oates was able to pay each book under the spotlight. Her review of Annie Proulx's short story collections is more than 16 pages long and contains substantial and relevant quotes that make you want to pick up a Proulx story immediately.
Oates is aware of the context, the controversies and the homages that are linked to the origins of particular books, but she is very good at seeing how we can view the themes, characterisations and nuances in contemporary settings. She keeps an eye out for how women fare under the pen of men (and women), but her discussion of the caricatures, misogynists and underwritings is just one strand of her thinking.
Oates is a writer who loves reading literature and for me that love of reading is infectious.
Paula Green is an Auckland poet and children's author.