NZ's top writing team score again with their pub quiz dramedy series Nothing Trivial, writes Barney McDonald.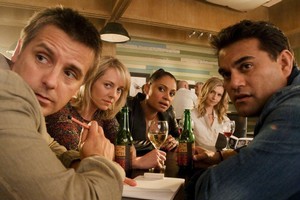 On first inspection, it seems like a trite subject for light-hearted drama.
Five friends meet once a week at a pub quiz to pick through the bones of their love lives while attempting to answer a bunch of meaningless questions over a pint or a pinot.
But when you consider the brains behind TV One's latest locally brewed dramedy, Nothing Trivial, you quickly realise that looks can be deceptive.
Rachel Lang and Gavin Strawhan are the nearest thing to writing royalty on New Zealand TV. Between them, they have helmed recent hits Outrageous Fortune, Go Girls and The Almighty Johnsons.
Their new show is packed with humour and heart, and has been a huge hit.
"I used to go to pub quizzes with my brother Alistair," laughs Lang. "He'd get together lots of people with different interests so he'd cover all bases.
He'd always get Jackie Clarke along for rugby. She's really good on rugby.
"After I started going along, I said to Gavin, 'I think this would make a really good setting for a show, so you have to come along and see what it's like'. He had a good time," she laughs.
Setting is everything in prime-time entertainment, and in pub quizzes Lang and Strawhan have landed on a colourful premise on which to weave the stories and personalities of dysfunctional friends Mac (Shane Cortese), Catherine (Tandi Wright), Michelle (Nicole Whippy), Brian (Blair Strang) and Emma (Debbie Newby-Ward). It gets them together each week, drinking, laughing, reminiscing and fighting. And by cutting away to show us their lives outside the pub, we get to know them better, sympathise, identify and want to come back for more.
"It seemed there were lots of middle-aged people at the pub quiz I went to and they were all obsessed with answering these small questions, while life is full of so many big ones," recalls Lang.
What if the quizmaster asked the big questions? "I don't think anyone would want to go," replies Lang. "It would be too much like therapy."
Casting was key to luring audiences along for the 13-part ride. All the lead actors have worked on Lang and Strawhan shows before. Whippy was arguably the most loved after her performance as Kasey on Outrageous Fortune. Unsurprisingly, all received Lang's seal of approval for Nothing Trivial.
"We were really lucky with the actors," she says. "We had a couple of people in mind, but I'm always wary of just giving someone a part until I check that my idea of what they're going to do fits what's on the page, because you can get a rude shock sometimes."
Are Lang and Strawhan like the geese that lay the golden eggs for actors?
Lang laughs. "It's sort of like that, but we are ruthless when it comes to casting. It sounds really mean, but you've got to have the right person for the role. If you don't, it's not going to work."
Which brings us to the most important question of all: is Lang any good at pub quizzes in real life? "I'm actually not too bad," she laughs.
"A highlight of making the show was taking director Mark Beesley (Savage Honeymoon, Outrageous Fortune) and some of the production people down to the Drake to play, because some of them had never been to a pub quiz before. We called ourselves The Beagle, after the pub on our show, and we won!
"We went back with the actors to drink the bar tab and we didn't do so well that time. It was funny because Nicole really loved it and said she's going to come back every week. She may regret that now, because the days at the Beagle are just endless."
Nothing Trivial plays on TV One, Wednesdays at 8.30pm.
- Herald on Sunday / View