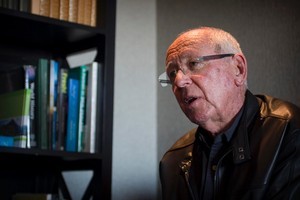 It's no wonder Derek Hansen became a novelist. The guy loves a yarn. On a promo tour for his latest book, a rollicking crime novel called A Man You Can Bank On, Hansen proves to be good at talking about himself, treating the interview, quite rightly, as a performance.
In the space of half an hour, the former Aucklander relays in storyteller's detail what it was like meeting psychopath Neddy Smith, tells of the irony of a trip to see a world-renowned car enthusiast who lives with wombats "in the boonies", and fumes about Disney, who dumped his novel-turned-screenplay Sole Survivor two weeks before it was due to start filming.
He also manages to name literally every book he's written during the 20 years since leaving an illustrious career in advertising. Coincidence? Or a marketing man doing what he does best? "I'm not Shelley Berman [the American comedian]," says Hansen, who also directed the video promos on his website.
"Though I'd dearly love to be."
Nor is he shy about exposing his somewhat anal approach to the writing process. Several of his short stories and novels are best-sellers, yet you can't really define his work - he's done everything from interviewing persecuted Jews for historical fiction to his latest, a clever and at times daft caper set in the Australian Outback.
A Man You Can Bank On has everything you'd expect from a crime novel - action, violence, an unpredictable climax - but it's different from Hansen's other work, such as his best-selling historical Lunch With ... series: Lunch with the Generals, Lunch with Mussolini, Lunch with a Soldier, Lunch with the Station Master - in which a group of friends tell stories over a meal, an idea inspired by a real lunch with Hansen's mate, Bryce Courtenay.
After years of condensing masses of information into 30-second TV commercials, Hansen figured the best way to approach a novel was to break down the story into bite-sized, meal-time conversations.
He has since found his confidence to tackle a conventional novel structure, although A Man You Can Bank On isn't exactly conventional. The story explores what happens when a struggling Outback town stumbles across $3 million, hidden by robbers who'd nicked it from bookies - a victimless crime, he laughs.
The idea came to him when the global financial crisis hit. He wondered if it was just the big-shot financiers who could invest other people's money and leverage themselves to the hilt. The droughts that threatened to close small towns around New South Wales inspired him, too. "I thought, what if these guys get an infusion of capital and engage in nifty marketing - can they turn their town around?"
The action is fast-paced and visual - Hansen hopes it will be made into a film. He was heartbroken when Sole Survivor never made it to the screen; the Tom Hanks-helmed Castaway was deemed to be too similar.
"They figured two movies about a bloke on an island surrounded by salt water was too many and Sole Survivor was thrown in the trash can. That two weeks cost me US$1 million."
The details of A Man You Can Bank On are so bizarre it would be almost impossible for this situation to repeat itself - which is exactly the point.
"There's this thing in writing called the curse of success. If you're Patricia Cornwell, publishers will love you because the book you write is what they want, which is the same but different. It's true of all the crime writers.
"I know this, I'm a marketing man, that's how it works - it's how you become successful. I understand it but I don't want to do it."
This explains how he has gone from writing the Lunch novels to Perfect Couple, about a marriage in crisis, and Sole Survivor, a drama set on Great Barrier Island. The lurches in genre outrage some of his fans, he concedes.
And now he has penned a crime novel, set in the fictional town of Munni-Munni. It's his first since moving from publishers Simon and Schuster to Hachette, in an effort to become the company newbie again and get a fresh perspective.
We can only just claim him as a Kiwi. He was born in England, emigrated here with his parents when he was 4 and later worked in advertising, first in London during the 1960s and then in Sydney, where he owned an agency. For 10 years, he worked on campaigns for the Australian Labor Party, Jaguar, Uncle Toby's, as well as confectionery and cosmetics brands.
"I must admit I almost threw a party the day I left. I'd had my day. I'd become one of those old farts I hated when I was a kid."
Hansen sounds equally proud of his career and jaded by the realities of his chosen industries. He says he has buried his many advertising awards in the garden. It's that subtly surly sense of humour that sets his writing apart. For instance, everyone in Munni-Munni owns a white Camry and a Jack Russell. The hitman character - based on the time he met Aussie hitman Neddy Smith at a Labor Party convention - is into self-improvement and his partner in crime speaks in Kath & Kim-style malapropisms: "I just had a periphery (epiphany)."
Then there's the town's animatronics expert, who scares the bejesus out of trespassers with wolves and snipers. That character is a hybrid of two people Hansen observed - the DeSoto car specialist from the boonies and a "so normal he's boring" tenant at his Queensland holiday home, who just happens to do animatronics work.
"Sometimes God smiles on writers," he says of meeting the tenant just when he was wondering how to incorporate the material gleaned from the DeSoto guy. The blind faith ends there. Where many writers enjoy spontaneity, Hansen is the opposite, mapping out his stories with the discipline his former profession instilled in him: with strict storyboards charting the book's timelines and intersecting subplots.
It would probably be impossible otherwise. The new novel has a complex, filmic structure and references whipsmart flicks such as Reservoir Dogs and Pulp Fiction.
"I never start a book unless I know how it ends. It's like getting in the car, driving for six months and not knowing where you're going."
*A Man You Can Bank On (Hachette, $37.99) is out now.