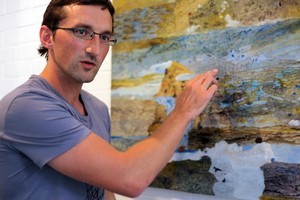 To misquote a saying: an arts columnist is someone who conducts their cultural education in public. I've been a stumbling learner on the arts pages for a year now, so here's an annual stocktake of the fates of those who've taught me along the way ...
The Wallace Arts Centre in Hillsborough turns one on August 14. Go to its birthday celebrations, and you can also catch the last day of Brendan McGorry's God's Little Launderette. Happily, it was temporarily resited at the centre after its original White Night outing which I enjoyed so much in March.
Congratulations are due to Sir James Wallace on his Queens Birthday knighthood, but I do wish the Arts Centre's neighbour, Monte Cecilia School, was not being forced to move, all for a bus turnaround.
Alas, that is more likely now than a year ago, after a zone change approval last month. My commiserations to the school, and also to ratepayers who, school supporters say, will have to foot the astonishing bill of $20 million to $30 million.
Perhaps not quite as shocking is the fact that Broadcasting Minister Jonathan Coleman didn't take my advice and make TVNZ7 an official charter channel; instead he's thrown the channel and TVNZ charter together - in the dustbin.
Anybody at the TVNZ HQ Death Star feeling groomed for privatisation?
Meanwhile, the accessible How To Look At A Painting, screening on TV One, is great for adults and kids alike - except that it's on after most bedtimes on Sunday nights.
On a happier note, the Pecha Kucha show-and-tells are still going strong (the next Auckland night is August 18), and a new all-women roller derby team, the pink-black-yellow Alpha Beta Slammers, won the Pirate City league's Black Dahlia Cup this season. Interleague games start on August 20.
Operation 8, the film about the Tuhoe raids, inspired dozens of Herald website comments - mostly from people who had obviously and efficiently made up their minds on the film's content without seeing it. They're missing out; deservedly, the film was one of only three New Zealand features selected for the recent Melbourne Film Festival.
Since I wrote about picture books, I've learned of the wonderful Tina Matthews who adds compassion and woodblock prints to the little red hen fable in Out of the Egg, and been reminded of British-Australian Jeannie Baker's breathtakingly intricate, original and wordless collage books, and also of the luminous work of late New Yorker Ezra Jack Keats. All exceptional.
But some are even slower learners than myself. I reported in November that last year's LATE at the Museum series featured 25 male but only five female panellists. This year, thus far, they've put 13 men onstage and only five women (and it's still only the men who get to be MCs). Auckland Museum have a way to go before they can put sexism in a glass case as one of their historical exhibits.
I've given the Auckland Council a hard time all year: at time of writing, the Poynton Terrace wall they buffed way back in February is still grey; Len Brown has been pro-pokies at Sky City; and it's unclear how the homeless (the subject of three plays in the past year) will be treated during the Rugby World Cup.
But to cut them some slack, I'm looking forward to the year ahead: both the new Auckland Art Gallery and Q Theatre are opening soon. The cultural landscape changes again.