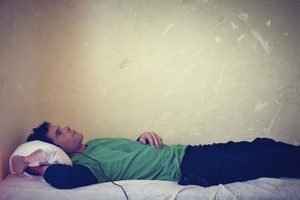 The first offering from Silo Theatre's second-cousin programme emphatically delivers on its promise of edgy and engaging theatre.
I Love You Bro plunges us into the underworld of internet chat rooms where we follow a teenager's retreat into a virtual world and witness how an innocent pastime spirals into dangerous obsession.
Much of the frisson comes from knowing the story is based on real events. In 2003, while investigating a brutal stabbing, Manchester police uncovered a bizarre conspiracy involving a 14-year-old boy who had planted an elaborate network of fictional characters in internet chat rooms and conned a naive acquaintance into believing they were real people.
The play was inspired by reports in Vanity Fair; the meticulously researched magazine article presents a story that is far more sordid and much sadder. (Read it here)
Australian playwright Adam Cass clearly did not intend to produce a docu-drama. His account is sanitised and somewhat romanticised but offers a frighteningly real examination of the teenage mind that created a wildly seductive fantasy world.
Tim Carlsen's powerful performance brings to life a deranged, brilliantly inventive and pathetically lonely individual.
The passionate intensity with which he throws himself into his fabrications effectively demolishes the neat boundaries that separate imagination from reality.
Director Sophie Roberts, with designers Jane Hakaraia and Sean Lynch, have created an elegantly simple space that enhances Carlsen's wonderfully engaging performance.
Although the production offers valuable insights into the murky cyber world inhabited by today's teenagers I was struck by how the story parallels the Parker-Hulme murders chronicled in Heavenly Creatures. In Christchurch in 1954 a similar vortex of imaginative deceit and manipulation was conjured up with the supposedly benign technology of a fountain pen.
The play is much more than a cautionary tale about the perils of the internet and delivers a provocative meditation on how the void is filled when a young man is isolated from a meaningful family life and anything resembling a community.
What: I Love You Bro.
Where: Herald Theatre, Aotea Centre until August 20.