The irrepressible Sami Sisters get serious, sort of, on their debut album. Jacqueline Smith reports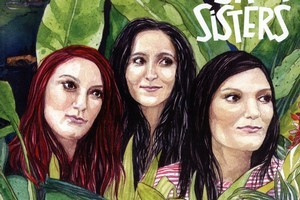 The Sami Sisters insist they are not a comedy outfit despite being related to Madeleine and having performed in televised laugh-fest AotearoHa.
"We never intended to be comedy," says Anji, the middle child, who has assumed the managerial role in the band. Someone has to.
If Madeleine is the queen of accents, or "parrot", and Priya is the young, flirty "diva", then Anji must be the "grump" of their independent label Parrot, Diva, Grump Records.
Priya and Madeleine manage to tug the conversation between rats and facial hair and Pepsi and 80s slot machines and Benjamin Button over the course of the interview. It's side-splitting but Anji tries to keep a straight face.
She's booked them another interview after this one and as the only one with a working car, it's her responsibility to get them there.
We switch to a more serious topic: the very different sound on their debut album. It's no longer three sisters with their acoustic guitars singing pithy, country-folk tunes.
There are synthesisers, drums, bass. How would they describe themselves?
"More indie-an," offers Priya with a cackle. Madeleine tells her off: "She'll write that we are all [attempts a Punjabi melody]."
"Sorry, these guys aren't used to interviews," she apologises, then offers an explanation of the record as, "an eclectic mix of everything from folkie country stuff to Kate Bush and Fleetwood Mac".
Called Happy Heartbreak the album's 11 tracks have been pulled from the sisters' individual collections penned over the past seven years. They fall under the common theme of throwing a "pity party" in the face of heartbreak, which was the subject of their power-point presentation-cum-musical performance at the 2009 Auckland Festival. The album grew from there.
The Samis have been singing since they were born - "we'd toss Priya 20c to sing Irish songs" - and were raised on vintage records like Motown, maybe some Neil Young, Rick Astley. But then they went their separate ways. Anji, 28, studied music at university in Dunedin, pursued her grunge-metal interests, won a bNet award, and now works as a secondary school music teacher. Priya, 23, achieved indie-fame in her early teens when her 2005 single Mrs Julian Casablancas became a radio hit, and she has since tried, then ditched, university and a jewellery-making course to become a music teacher at a primary and intermediate school. Madeleine, 31, has, of course become a regular on the TV3 comedy circuit, through The Jaquie Brown Diaries her own TV show Supercity, and on Friday night she appeared as a cross-dressed model on New Zealand's Next Top Model. Though she has never really gone public with her own music, most of the songs on the album are Madeleine's.
Anji swells with sisterly pride: "What I love about putting this out is that these songs are amazing but Madeleine is not very confident when it comes to music,"
"Shut up, I'm really confident," Madeleine interjects.
"But there is such depth to it. She likes to joke about it but she is really, really amazing," Anji continues.
"Despite the differences in the way we operate as individuals, we like each other's music and we get excited about singing each other's songs," Madeleine offers. Priya says she was "stoked" to be allowed to sing Madeleine's Oh Boy, one of the most catchy, retro-pop tunes on the album.
Much as they're clearly each other's number-one fans, the Samis never intended to be a family band. It was a coincidence that in 2007 they ended up in Australia together, and so joined Anji on stage at a couple of shows she had booked. Their first gig was in a bar in Melbourne. Their fourth was opening for Rufus Wainwright's in 2008 Auckland.
"Yeah we kind of went backwards. Most bands have an album first," says Madeleine. A further four years of gigging has helped them pay for their mostly self-funded debut album. It has also seen them evolve from three acoustic guitars to a full band.
In their live performances, they are joined by drummer Alastair Deverick from the Ruby Suns and Jeremy Toy of The Open Souls. Priya has picked up the bass, learning from a home-made book of Happy Heartbreak tabs she was given for Christmas.
"People see the posters with Sami sisters - and band - and think it's the backup band, but actually, we are the band, and it's so cool," Priya gushes.
Madeleine says that's what the past two years have been about: "We always used to just play with a few guitars and some percussion, but this was a chance for us to say, well, we have now made this album with all these other instruments, who is going to play them? We are going to have to, and we have been learning to do that, so that's going to change the way we write songs."
Their future, this week at least, involves squeezing the album release into the school holidays, but any thoughts beyond that would appear to be embroiled in comedy.
Wherever the band goes, it seems Priya, the one who seems to be the cheerleader as well as the diva, will credit herself as the driving force for her older sisters' successes.
"I pretty much made these guys who they are, they wouldn't be very confident. Anji probably would have worked at Countdown and Madeleine never would have worked in theatre, but I knew from a small age, I had big plans for these guys," she says.
LOWDOWN
Who: The Sami Sisters
What: debut album Happy Heartbreak, out August.
- TimeOut