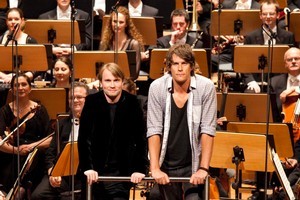 I realise I am a bear of little brain who doesn't grasp the subtle smartness of post-modern personality-driven television. I need things spelled out to me in simple, non-ironic terms. So, while watching a preview of documentary, The Grand Tour, on Prime TV, I expected some explanation of why Jeremy Wells, aka Newsboy, was traipsing around after the New Zealand Symphony Orchestra on its important and expensive European tour. Was he just taking the mickey? Or had he become a convert to highbrow classical music?
If so, I thought he might tell us about his awakening; Wagner has the same vibe as Metallica? Schubert's Death and the Maiden blew the Verlaines away? Kronos Quartet's version of Purple Haze was wilder than Hendrix? Instead, when it came to Berlioz, he looks like he isn't quite sure whether he is a lover or a hater.
Maybe the elite special clique of Concert FM listeners is just the next step when you graduate from the elite special clique of bFM listeners? Regardless, Wells certainly seemed to have taken literally the brief to "sex up" the NZSO.
To the orchestra manager: "Are musicians allowed to have sex before a performance?" To the theatre doctor: "What happens when you get a bow through the testicles?" To the harpist: "Have you ever played the harp nude?" To the orchestra's physiotherapist: "Erections: are they ever a problem?" To the oboe player: "Have you ever needed to go ones or twos during a performance?" I don't want to come over all old fogey-ish and po-faced but to start with this is rather offputting. Oi, dude, what about the blinking music?
After the third or fourth smutty question I started to think Wells' scatological humour was actually quite clever, because he simply showed up how totally weird and amazing elite musicians really are.
The incredible discipline. The incredible focus. The incredible obsession and talent. It all just seems even more incredible when juxtaposed with a ramshackle guy who wanted to talk to the maestro about whether he had a "rider", that list of things rock bands demand backstage. In music director Pietari Inkenen's case all he requires is water and a banana. Wells manages, with admirable restraint, not to make any rude jokes about that. Footage of gorgeous violinist Hilary Hahn performing is perhaps even more spookily fabulous when contrasted with Wells asking her halfwitted questions about why she likes to cook her own soup and whether she missed "sniffing vivids" when she was performing as a soloist with the Baltimore Philharmonic at age 13.
By the time Wells interviews Kiri Te Kanawa I was starting to suspect there was perhaps a Chauncey Gardiner-esque genius about Wells' dribbly interviewing style. Suffice it to say I don't think interviewers often get the better of the Diva. Wells did.
What really matters is the music. If you ever get a bit satisfyingly teary watching New Zealand sportsmen on the podium, then I challenge you to watch our own NZSO at the famous Musikverein in Vienna and not get that same flush-on. You might even feel a bit proud of Wells and his clever cretinousness, too, poo jokes notwithstanding.
The Grand Tour: Jeremy Wells With The NZSO plays tonight on Prime, Sunday 8.45pm.
- View/Herald on Sunday