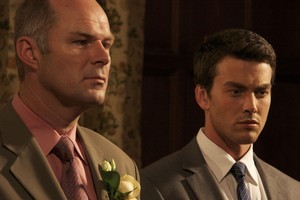 So there it is for another year. My personal tally was just over 50 although I watched many on preview screeners before the festival opened and some I had seen in other contexts as much as a year ago.
It was, it seems to me, a very good festival without being a magnificent one. It certainly had the best opening night I can remember - the image of Florian Habicht in his orange stovepipe trousers is still bringing a smile to my face. And the documentary line-up was as good as any we've been offered.
Alas, I never made it to Andrey Zvyagintsev's Elena last evening. My second brush with seasonal illness laid me low and I retired to bed with several hot-water bottles. There is another chance tonight, I know, but I am committed elsewhere.
But I did steer the Vespa through the icy air to see Beauty, the first Afrikaans-language (and only the second South African) feature to be invited to play at Cannes.
The story of a deeply conflicted middle-aged family man in Bloemfontein who conceives an obsessive passion for his daughter's new boyfriend, it was a deeply disturbing and highly rewarding experience.
The cinematography - in particularly the absolutely brilliant long opening shot which inspected the guests at a wedding reception, as we waited in steadily growing suspense to see which character the camera would settle on - did a fantastic job of evoking the inner life of the main character Francois (an intense, brooding Charlie Keegan).
It seemed a fine way to sign out from 17 days of moviegoing: seeing a memorable and challenging film that has no chance of returning on commercial release, made in a place whose movies I am not familiar with. That is what the festival is all about, I reckon.
Of the voluminous responses to my piece about Morgan Spurlock, there seems not much more to say except that I never cease to be amazed at the human capacity for criticising journalists for saying something they haven't said.
This does, however, seem a reasonable place to address the common utterance (rehearsed in that discussion) that if I don't like a film it is a guarantee that it will be very good (and if I love it, it will be garbage).
I used to respond to this assertion by challenging the writer to give me a list of their top 10 films of the last year so that we could test the accuracy of what they are saying. My offer was always the same: if you are right, I will donate $10 to a charity of your choice; if you are wrong, you will add to the thread a post that says something along the lines of "I was talking complete rubbish".
The offer has, tellingly, yet to be taken up.
But, if we take the observation at face value, my response is: so what? If it is true, then readers may be unerringly steered towards excellent films by virtue of the fact that I have panned them. If I am so consistently off-base, then I am at least serviceably reliable.
It seems an odd way to read a critic, though. I am more inclined to wonder why readers who take this view don't simply start reading someone else whose opinion rhymes with their own.
I am not being smart-arsed here: there are many critics I don't read because I have read them enough to form the view that they have nothing to say that I am interested in hearing. To do otherwise would, it seems to me, be a particularly obscure form of masochism. And to then complain, online and behind a screen of anonymity, seems about as sensible as complaining to a chef that the chicken doesn't taste like lamb.
Anyway, it takes all sorts. Thanks for reading. I hope to see you again in this spot next year where I will give you the benefit of my opinion (which, like yours, ain't right; it's just mine) and you can read it, or not, depending on your inclination.
Until then, keep warm. And if you missed Love Story, don't make the same mistake twice.