After five years at sea, risking life and limb as Lieutenant Kate McGregor, Lisa McCune is ready to stay on dry land and prioritise family, writes Jacqueline Smith.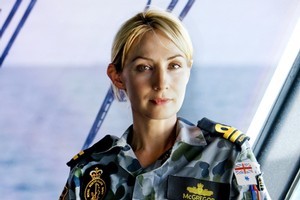 Lisa McCune's daring side came out on Sea Patrol, but at home she says she leaves the stunts to the kids.
Now that Lisa McCune has hung up her Sea Patrol uniform for the final time, she is enjoying making lunches, doing the school run and generally playing mother to her children, aged six, seven and 10.
It's strange to not be heading out to sea after five years on the popular Australian series, but McCune says she enjoying life on terra firma, though she's been there before, having done seven seasons as Constable Maggie Doyle in popular country cop drama Blue Heelers. But the navy show brought its own challenges.
"It's quite tiring out on the ocean, physically, you have to be quite fit, and you put the stunts on top of that as well. It's incredibly hot, and we wear so much gear, the navy attire," she says.
Seeing the wide sweeping shots of her fellow cast charging through the ocean - and her sons' eyes light up when they watch it - make those long days at sea worth it.
It seems such an achievement to have shipped all the cast, crew and gear, including hundreds of extras, out on to the temperamental ocean in the sake of good television, she says.
The seas were particularly treacherous this season, and in fact a little village at Mission Beach, Queensland, was devastated by cyclone Yassi just after Sea Patrol wrapped filming. The first episode in the series is dedicated to those still struggling with the aftermath.
"The season doesn't look as rough as it was, the camera brings it down a little bit but it was incredibly rough. The locals were saying they weren't expecting to be hit as hard as they were but the water was warm and the weather was dicey."
Seas were still moody as the crew moved north to Cairns, filming around the islands along the naval route to Broome. Those stints involved being out on the water for 12 hours, every day for six weeks. The same navy crew accompanied the Sea Patrol actors for the entire shoot, as naval staff must approve every shot and stunt to ensure it complies with sea safety requirements.
"There's these two very different machines that come together and operate. I think the navy get a really big kick out of watching it on television, it is representing their world."
McCune says the series has pushed the boundaries of its genre over the years playing up the thrillseeking stunts and even pyrotechnics.
"There's usually an episode that plays a bit like a horror film."
In the first episode of this year's fifth season, it's a horrific bomb situation when naval crew pull on to land for a few days of training. McCune says the rough and tumble is a strong contrast to her everyday life.
"When I'm working on a series I'll do anything. I'll go to themeparks and go on the craziest rides, and do the most outrageous things, but in my day to day life I would rather not. For some reason the dare factor comes out - in my real life I would rather watch the kids do it."
Kate goes out with a bang this season, as she addresses the shackles of her love life and career.
"This series she needs to see where she wants to be in 10 years time. An old love comes back into her life and she realises she has to make some decisions because she is just "treading water", waiting for Mike. She has this elastic band around him - he pulls and she keeps coming back. I think she just has to decide as most women do in their thirties, is it career or family - and for her she's really at that point where it's crunch time."
It's something McCune can identify with, and a dilemma she was keen for the show to pursue.
"I was 30 when I had my first baby, but you feel that pressure in your thirties, that you have built this career, but might want to have children. And do you have to lose the career or can you have both?"
Lowdown
Who: Lisa McCune, Australian television veteran
Plays: Lieutenant Kate McGregor in Sea Patrol
When and where: Fifth and final season starts Wednesday, 8.30pm, Prime
- TimeOut