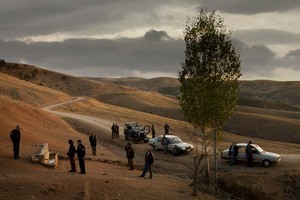 My third three-film day yesterday might have passed in a bit of a blur if it were not for the blessing of Turkish director Nuri Bilge Ceylan's metaphysical police procedural Once Upon A Time In Anatolia.
In years gone by I used to react with a mild panic when I saw films in the programme with long running times. I always felt slightly intimidated, not least by the challenge they posed to the human capacity for staying awake.
But more recently, I have come to savour the slow burners - and I'm glad to see the festival now sets aside a section of the programme to highlight them. They impart a new rhythm to the sometimes rushed experience of the 17 days.
A recent case in point was Carlos Reygadas' Silent Light in 2009 - a relatively sleek 145 minutes, paced with the assurance of a master. The opening shot tracks down from a starlit sky and then the static camera reveals a Mennonite community in Mexico as the sun comes up and the animals start to make their morning noises.
It must be at least five minutes long.
Perhaps it was intended to be a metaphor for the biblical story of creation - though I find it hard to make the case that the film that follows, of an illicit liaison in a deeply religious community, is a retelling of the Fall of Man. All I know is that it pulled me completely into the film's world. My heartbeat dropped, the world outside fell away, I was hooked.
Once Upon A Time In Anatolia (again, at 150 minutes, hardly epic-length) had the same effect as it followed a police team, including a doctor and a prosecutor through an all-night search for a buried body on the Anatolian steppes. The last 20 minutes or so rather lost me, as one character's existential crisis was dwelt on at excessive length and with insufficient clarity. But the film as a whole was a complete stunner.
It's rather touch and go whether I'll get to anything today: other commitments may intervene. Lars von Trier's Melancholia is the main film in my sights, though it has to be said that the Dogme-tic Dane is usually one of the festival's riskiest bets. I can't remember when he last completely satisfied me, but he's always a talking point.
But if you are looking for a pleasant way to start the weekend, don't go past Le Havre at the Lido at 6. Finnish director Aki Kaurismaki's film, set in the Normandy port city of the title, is an utterly charming story of a shoeshine man who takes an illegal African immigrant boy under his wing.
The dry comedy, a sort of flip side to the Vincent Lindon drama Welcome of a couple of years back, is fabulous and Jean-Pierre Darroussin as an inscrutable cop who seems to have stepped from the pages of a Tintin book, is great.
CASH CRISIS: Whatever happened to folding money? Doesn't anybody carry a few bucks around any more? Using eftpos to pay for an ice cream or a glass of wine is just dumb, when there's a big queue and the bell's ringing. How about "cash only" sales points to reward people who remember their scout and guide motto to be prepared? Just asking.