Newcomer Lucas Neff plays a man thrust into fatherhood under unusual circumstances. He talks to Jacqueline Smith about accidentally getting into acting and discovering an appreciation for rearing a human being.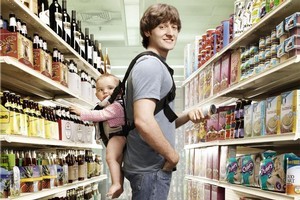 Jimmy Chance, 22, lives with his very young chain-smoking mother and senile grandmother, and busies himself cleaning swimming pools.
His luck changes when he accidentally impregnates a serial killer who is in line for the electric chair. Suddenly, crying baby in his arms, he finds he has a purpose.
Raising Hope is the latest series from the makers of offbeat comedy My Name Is Earl and has already been renewed for a second season in the States.
Playing the lead, alongside Martha Plimpton who has already been nominated for a Emmy Award for her role in the series, is Lucas Neff, a previously unknown actor who says he fell into the profession by accident.
Who is he?
"Err, my name is Lucas Neff, I think I'm a Scorpio, I enjoy long walks and old novels. No, I'm just a guy," he says.
Neff's foray into acting began when he incorrectly filled out his college application and was sent to the drama department.
"By this stage, I was an incredibly lazy, resentful 18-year-old who wanted nothing to do with any more paperwork, so I just stuck it out in the arts department and it turned out to be a good decision."
He had actually hoped to work on the other side of the camera. Neff had always enjoyed watching movies but hadn't tried his hand at acting since he was in primary school.
"You know where they force all the kids to perform so the parents have to pay some ridiculous fee to come and see their kid play 'mushroom number seven', I did two of those plays. But other than that I was just a regular teenager, I played sports, watched a lot of movies, cut school a little too often and got into trouble."
His first college play was a student-run production, adapted from a bunch of Steven Martin scripts, and Neff landed the 12-minute monologue.
"I was just so gosh-damn nervous you could see me trembling about a mile away, but then it was just such an incredible moment to hear people laugh, and to feel like I was part of something greater than myself. I was like, I want to do this again, immediately."
Then, after several theatre roles in Chicago, he auditioned for Raising Hope, and says the producers decided to give him a chance.
Neff looks anything but nervous on screen, though he does seem suitably awkward when holding baby Hope in the opening episode.
Like his character, that was Neff's first experience caring for a baby, and says it gave him a new appreciation for solo dads, and parenting in general.
"I've got a couple of dogs I have to take care of and Lord knows it's difficult enough, I have my lovely fiancee to help me but it's still a nightmare. I can't imagine how exponentially difficult it is to nurture a little human being into adulthood and have something worthwhile at the end of it, I think it's one of the more beautiful sacrifices a human can make," he says.
He says he was too busy trying to figure out the TV process while filming to think about the wider implications of the show, but has since realised how strongly Raising Hope resonated with certain groups.
Following the show's run in the States in May, he discovered a community of single dads and gay or blended families who were really moved by the series, and had been motivated to share their stories with one another online.
Neff himself is from a fairly middle class family in Illinois, his father is a lawyer-cum-writer, and his mother runs programmes for youth in detention centres. But he says struggling families like Jimmy's - where the best hope for a newborn really is to leave it at the community drop-off station - are everywhere, and deserve more representation on the screen and stage.
"At the end of the day, whether it's two male parents, two female parents, one parent of either gender, a man and a woman together, it seems there's such a strong and undeniable bond of love for one another, which our show goes into really well. It makes me want to have a family of my own."
LOWDOWN
Who: Lucas Neff
What: Stars in new TV3 series Raising Hope, replacing Modern Family on Sunday nights at 7pm.