Putting his Blindspott woes behind him, Shelton Woolright has made a new start in London, writes Scott Kara.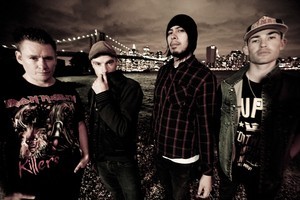 All is well with Shelton Woolright's band I Am Giant thank you very much. The London-based heavy rock quartet that he and fellow New Zealander Paul Matthews founded in 2009 have their debut album, The Horrifying Truth, coming out next week, and also set off on a 10-date nationwide tour. So more on them soon.
Because it's Woolright's old band Blindspott - the west Auckland sons who stormed the mainstream with their mix of heavy rock and melodic metal in the early 2000s - that still makes him feel a little sad.
You see Blindspott "went their separate ways" in 2007 but when the band decided to reform, minus Woolright, a dispute broke out over the rights to the band's name.
Depending on who you talk to there are different versions of events but Woolright says Blindspott took him to court because they didn't think he had any claim on the name - with the court ruling against them. He says he owns one third of the name.
From his perspective he doesn't want to stop Blindspott using their name, he just wants the signing off of the intellectual property of the name to be done properly.
"I still can't actually believe they took me to court. It's disappointing. It was pretty surreal when I found out," he says.
They are now in discussions to work out a deal. What makes it more sad is that Woolright has known some of his former bandmates since they were kids.
But he has no hard feelings and wants to move on. "At the end of the day these guys are great musicians - they should be doing music, Blindspott or no Blindspott. I wish them all the best."
Moving on was what Woolright and Matthews did a few years ago when they up and left New Zealand for London. Their goal was to start a new band, play rock 'n' roll, make a full-time rather than part-time living out of it - and ideally make it big.
It didn't exactly happen overnight, and while I Am Giant are still no Muse, things are looking promising with the band a mainstay on rock radio in New Zealand; their last tour here was a sell-out, and overseas they are building a profile playing gigs and having songs featured in films by surfing legend Kelly Slater and skateboarder Tony Hawke.
The first song they wrote was the towering rock radio hit City Limits - "Paul and I didn't really realise what we had with that song," Woolright laughs now - and then came Let it Go and Neon Sunrise. "So we knew there was something kind of there."
The only thing they were missing was a singer - and so began the long arduous search for someone to sing the songs. "Even I had a go," says Woolright sounding a little horrified by the thought.
At this stage they were "on the bones of their arses" in London doing odd jobs pulling pints and washing windows.
"I thought, 'What am I going to do if I give up on this now?' Go back to New Zealand and try to start a band? And then I'll still have to try and find a singer."
So they stuck it out and finally found British singer Ed Martin, whose range moves from solid classic rock to scorching high notes. The line-up was completed by guitarist Aja Timu.
The Horrifying Truth, which the band describe as "a collection of stories, throughts, observations, and exploration", is a step up in scope from last year's City Limits EP. As well as recent rock anthem And We'll Defy and breakthrough hit City Limits, there is everything from four six-minute epics, including the multi-part prog-inspired Drag My Name Through the Mud, through to spooky musings about a woman who was burnt at the stake in the 1700s in The Haunting of Elinor Shaw.
"I guess we just wanted to write some good solid epic rock tracks," says Woolright. "But we'd just write and see what came out and some of the songs just became journeys."
Though it sounds a little like a concept album, it's not, because it's big, bold and catchy rock 'n' roll.
"We kinda wanted to write some deep songs that people could listen to and hold close and kind of fall into," he says.
For now Woolright is quite happy living in London - and not being in the glare of the gossip pages, something he and former flame Nicky Watson were common fodder for when they were together. "It's not something I miss, but in saying that it was something quite interesting that I've had to experience. Hey, it's all part of growing up, and I can tell some tales through my music," he says wryly. Not that he's letting on. "Because it's not all about me bro, it's about the whole band. It's a completely different life over here for me. I'm just fitting in with all the hundreds of thousands of bands who are trying to make it."
LOWDOWN
Who: I Am Giant
Line-up: Shelton Woolright (drums), Paul Matthews (bass), Ed Martin (vocals), and Aja Timu (guitar)
Debut album: The Horrifying Truth, out Monday
On tour: Backstage, Auckland, Aug 4; Zeal, Auckland (All Ages), Aug 5; Sideline, Napier, Aug 6; Altitude, Hamilton, Aug 11. See myspace.com/iamgiantband for full tour dates.
-TimeOut