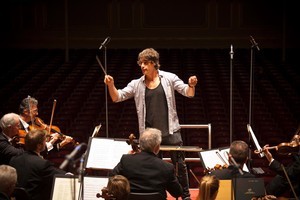 When the New Zealand Symphony Orchestra headed off to play in the great concert halls of Europe late last year, Jeremy Wells and a camera crew went with them.
The resulting doco may startle many - and not just because it has resulted in almost 90 minutes of arts programming in primetime.
No, the surprises come when Wells questions the players while on the road. His deadpan inquiries include: "Have you ever needed to go number ones or number twos during a performance?"
"Has anyone ever asked you to play the harp nude?" and "Do you ever look back at your childhood and think, 'I wished I sniffed more Vivids or went to the mall' or anything like that?"
That last one is directed at United States solo violinist Hilary Hahn.
She and conductor and NZSO music master, Pietari Inkinen, emerge from all the irreverence as the stars of this show.
The most formidable figure Wells encounters is Dame Kiri Te Kanawa and he wilts amusingly in the face of her daunting presence backstage at Vienna's famous Musikverein.
But when she expounds her views about the reasons for a decline in classical music in New Zealand - not enough of it on telly apparently and somewhat ironically given the circumstances - she is cut off before it all gets tedious.
Directed by Wells' longtime collaborator Paul Casserly, The Grand Tour skips through 11 concerts in 11 European cities in 15 days, although the tour actually starts in Shanghai where the NZSO perform at the World Expo and Wells is surrounded on the streets by teenagers who figure the tall man talking to the camera must be famous.
Wells' provocative interview style reveals the engaging mix of personalities and nationalities among the 108 musicians.
The doco also shows the power of our national orchestra in full flight on some of the stages where classical music was born. And although it's pleasing to see the ovations from the classical buffs of Frankfurt and Dusseldorf, the nicest compliment is from Wellingtonian and "'NZSO groupie" Gudrun Taylor, a concert subscriber from 1977, whose devotion has her following the orchestra's European tour.
When: Sunday, 8.45pm
Where: Prime
What: Making overtures, over there
-TimeOut