DJ Shadow promises new numbers and old favourites when he performs at The Powerstation on Wednesday.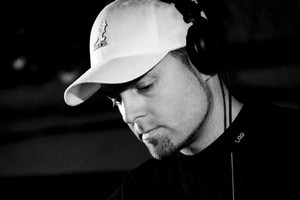 Mid morning at a greasy spoon cafe across the road from Shepherd's Bush market in West London is just about the last place that you would expect to see a top hip-hop musician like DJ Shadow.
Perhaps that's why the 39-year-old, otherwise known as Josh Davis, is hiding behind a pair of shades as he nurses a can of Coke.
But it turns out that the San Francisco resident is merely suffering from the after effects of his hectic schedule, in which he has played a rain-sodden Glastonbury and festivals in France and Belgium in the past few days.
"Hope you don't mind if I keep my sunglasses on for a little while as I'm still kind of waking up," he says politely.
"I'm on tour time. Normally I wouldn't get up until about 1pm because we go to bed at about 4 in the morning."
Davis is halfway through an extensive run of shows to promote his forthcoming album The Less You Know, The Better, which will be released in September.
"I make it a point to only travel this hard once every three or four years," he says of the tour, in which he will appear at the Powerstation next week on his third visit to New Zealand.
"Unfortunately I've only ever got to Auckland but in 2002 I had the chance to walk around a couple of record shops," recalls Davis, who spends hours scouring old records searching for tracks to sample.
"Then in 2006 we had a day off and somebody took us to the beach [Karekare] where they filmed The Piano.
"It was the very end of the tour and I was quite homesick. My wife was with me and when we got to the beach after this quite long, windy drive, it looked exactly like the beach just two minutes from our house back in California so I remember thinking that it was time to go home."
Performing solo, Davis combines eye-catching images with mashed-up tracks from his repertoire. "Every time I do a tour it's totally revamped and redone," he says.
"Back in 2002, it was my first big tour with visuals. We had three big screens behind me and we played with having different things on them, which was quite progressive at the time.
"Then in 2006, we sat down and said 'what are we going to do to top that?' So we had nine screens and this big thing that I climbed on top of. This time we came up with this concept of a sphere with a back screen behind it and we've got two projectors so that opens up a lot of room to do interesting things visually."
Renowned for his atmospheric instrumental hip-hop, Davis' 1996 debut album Entroducing was included in Time Magazine's list of the 100 best albums of all-time.
With tracks such as the plaintive anti-war anthem Six Days, he embraced a wider range of sounds on his 2002 second album The Private Press, which was followed in 2006 by the more aggressive The Outsider.
Preceded by the recent I Gotta Rokk EP, Davis has taken a more considered approach on The Less You Know, The Better.
"I've tried to pull in as much as I can out of all my different influences," he says.
"I listen to so many more different types of music now than I used to and as a result I feel like my vocabulary has increased. I'm not going to avoid being influenced by something just because nobody thinks its cool and I'm not going to hold back just because the press are going to think that my album's too schizophrenic. I'm just going to do what I like."
Davis promises to play a selection of new numbers and old favourites at the Powerstation. "Every tour I think that I'm going to leave Organ Donor out and then I put it back in at the last minute and it ends up being the highlight because people love that song," he says.
"Musically, every time I do a new record that's an opportunity to put things together differently. It's like adding new pieces to a puzzle. After 2006, I remember thinking 'Wow, that's as good a musical performance that I'm going to be able to put together' but somehow I managed to put this one together and now I feel the same way, so this one will be hard to top."
Despite his DJ moniker, Davis won't spin any tunes by other artists. "I would if I could, to be completely honest," he admits.
"But I stopped doing that after Entroducing because any time I turned up at a club and didn't play a set of my own music, people would be disappointed, which made me feel terrible. This is what people want. They want me to play my stuff and do a show."
*DJ Shadow performs at The Powerstation, Auckland on Wednesday.