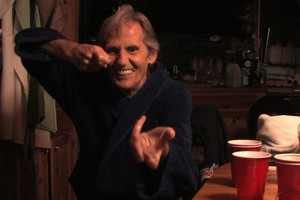 It seems faintly obscene to be writing about the pleasures of filmgoing on a morning like this, as Norway comes to terms with the havoc wrought by the most prolific solo mass murderer in recorded history.
That it should have happened in and near the home of the Nobel Peace Prize makes it somehow more poignant. So ... a brief pause to send thoughts northwards seems appropriate.
It looks like we're in for some serious filmgoing weather for the next few days. We can count ourselves lucky that the snow won't keep Aucklanders away from the movies.
After taking it pretty quietly for the first week, I have several three-film days this week, today being the first.
The portrait of The Band's drummer Levon Helm I'm particularly looking forward to, especially since, if my memory serves me well (a rare occurrence), he was the second-to-quietest one (after the virtually mute Garth Hudson) in the interview segments of Scorsese's The Last Waltz more than 30 years ago.
I was always in awe of somebody who could drum and sing at the same time since my sense of rhythm makes it hard for me to walk and chew gum (to paraphrase LBJ on Gerald Ford).
Helm was the only US-born member of that quintessentially American sextet - the rest were Canadians - whose songs spoke so precisely of the Southerner experience. He also took the lion's share of the lead vocals and what vocals they were.
What fewer people may know is that helm is no stranger to the big screen.
He played Loretta Lynn's father opposite Sissy Spacek in Michael Apted's excellent 1980 biopic of the great country singer, Coal Miner's Daughter, and he had an unforgettable mid-chase cameo in the brilliant modern Western The Three Burials of Melquiades Estrada, directed by and starring Tommy Lee Jones.
Today's film, Ain't In It For My Health, is at 11am and it plays again on Friday at 6.30pm.
Also irresistible is the short Italian film, Le quattro volte. One American critic remarks that "the film [will] either hypnotise you or drive you stark staring mad". I don't see why you can't have both, and anyway, that sounds like my kind of movie.
The only problem is that it is at the same time as Barbara Sumner Burstyn's interview with Annie Goldson about Brother Number One, which I am sure will be most interesting. These filmmaker talks in the Film Cafe (beneath the Civic) have been a great addition to the programme this year.
Wellington's festival opens this Friday and I see that the opening night attraction is Terence Malick's The Tree of Life. We got Florian Habicht's Love Story. Further proof, if proof were needed, that life is better in the Queen City than the Windy One.
Extra screenings this weekend: How Much Does Your Building Weigh, Mr Foster?, Saturday at 6 and Sunday at 3.45; Being Elmo, Sunday at 2.