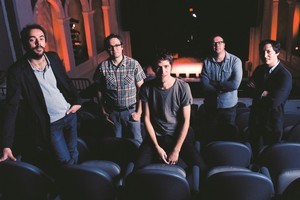 Gomez have carved out a reputation as one of the most dependable acts around.
In keeping with that, you'll find no curveballs on the band's new album, Whatever's On Your Mind. But lead singer Ian Ball claims what you will find is a blueprint for the future of recording.
The five members of the once British-based indie rock band are now scattered all over the world and have spent the past two years making music together from afar - a method they perfected after recording their last album, A New Tide, in a similar way.
"This album could've been made on the moon, it wouldn't have mattered where we were," explains Ball.
"Somebody writes something and sends it to somebody else and we allow each other space to have the idea before we collaborate. It's a great way to do things."
Ball knows there are plenty of detractors who claim great music can only be made face-to-face and, to some extent, he says that is true. But he also makes a good case for the contrary.
"Over the next five years, people are going to want to make albums cheaply - and they're going to want to do them quickly. So essentially the way we are doing it now is going to be the way everyone ends up recording," he declares.
"Actually, it already happens.
"Basically you can record in your bedroom with GarageBand or Pro Tools, or whatever you've got," he says.
"You don't need any money to do that; you can map everything out in your computer, you do all your arranging at home, you do everything before you go into the studio."
It's a far cry from the £500,000 ($944,000) Ball says Gomez blew on making their second album, after winning the Mercury Prize in 1998.
"All of a sudden we had money and it was like, 'Let's go to Abbey Road'.
"We were 21 and stoned out of our minds, we did stupid things like that," he laughs. "But now we're completely self-sufficient.
"We don't make shitloads of money, but we don't spend shitloads either."
*The latest Gomez album, Whatever's On Your Mind, is out now.
-Herald on Sunday / View