The Church's Steve Kilbey is still a man on a mission. He talks to Russell Baillie.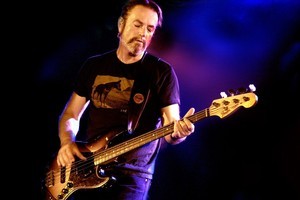 Steve Kilbey isn't touring here with The Church, the band whose paisley-pop hits and psychedelic rock albums made them Oz rock's odd-men-out for much of their 30 years. But when the singer-bassist and collaborator Ricky Maymi (of American retro-cult act The Brian Jonestown Massacre) and backers (father and son Shaun and Adrian Hoffman) appear on New Zealand stages in the coming week, Kilbey is promising there will be faithful renditions from the old Church hymnbook. Enduring jangling hits like Unguarded Moment and Under the Milky Way.
But the real point of the tour is the forthcoming Kilbey-Maymi album, The Wilderness Years by David Neil - a set inspired by the late and probably fictional Neil. The album is but one of many Kilbey's Church solo and collaborative efforts in past years. His creative endeavours these days also extending to a blog (thetimebeing.com) poetry and painting from his home in Bondi where TimeOut gets him on the phone...
So Ricky was a huge Church fan who became a mate?
Yeah. He's a lot younger than me. I met him when he was just a kid. He became a close friend and used to come stay at my house and we started working on this. We just fell into it, really. He came to a Church rehearsal once. He stayed all day and as each member went off to have a piss or buy lunch, Ricky would jump in on their instrument and play it as well, if not better, and certainly more energised. He really [has] an encyclopaedic knowledge of rock.
These days the Church does the occasional reunion and then you all go off and do your own thing...
Reunion is the wrong word. We never really broke up. So we've never really gone away and we say that we've been going for 31 years now. It's not like we are a gang like the Sex Pistols and we all live in the same house. We come together when necessary.
The band was inducted into the Aria Hall of Fame last year - was that like finally being welcomed into the fold?
I think for our sheer longevity they have had to turn around and go "we've always liked you guys" but they didn't and there will always exist suspicion between the Church and everybody else in this world and between each other. We are a very jumpy, nervous, suspicious mob. We know the music business doesn't love us that much and we don't really love them that much. I should have realised that back in 1981 and done myself a favour - why not just be nice to these geezers? What difference does it make if they f*** ing understand what you are doing or not?
And you've played a Commonwealth Games opening [2006] and played the Sydney Opera House with an orchestra too in recent years. But you sound bemused by all this acceptance.
You have to be. It's a joke. Just arrogance and stupidity on our behalf and my behalf. But here we are. On one hand we made it really hard for ourselves, on the other hand we are still here. People can sometimes perceive stupidity and arrogance as integrity. It's very interpretable.
The show you are bringing here is one of mixed denominations, so to speak.
There is going to be some Church, there is going to be some solo stuff and we are going to do almost all of the David Neil album. We'll be doing those well-known Church songs that people want to hear if that helps get the bastards down to the venue.
And so who is David Neil, really?
He's a dead songwriter that I once met when I was 20 and did tour with him in America. He died not long after that. His tapes were eventually bequeathed to me and Ricky and I have worked on them. It's like what a dentist does with a ravaged tooth. We've jumped in and put the amalgam in it. Built it back to what to should be.
LOWDOWN
Who: Steve Kilbey, moonlighting bassist-singer from Australian band The Church with Ricky Maymi
Where and when: Kings Arms, Auckland, Thurs July 28; Bodega, Wellington, Fri July 29; Refuel, Dunedin, Sat July 30; Al's Bar, Christchurch, Sun July 31; Cabana, Napier, Mon August 1
Album: The Wilderness Years by David Neil out next month
- TimeOut