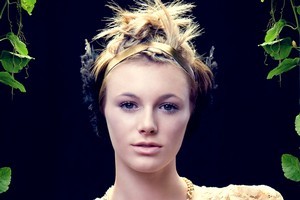 To bystanders, modelling would seem to be an expression of what's on the outside. Face, body shape, outfit. But tonight's episode proved that only when she has dealt with her emotional demons, can a model truly lose herself in the moment.
As far as therapy sessions go, trapping the girls in a house full of ghouls and then making them hang like waifs in the wind at 192m above street level is pretty up there. Especially when the latter was in front of Rachel Hunter. Forget her fear of heights, Aroha was positively "fanning out" over the celebrity encounter.
AJ might have had her head in the clouds for most of the season, but when it came to physically moving closer to them, she froze with pure terror. That was after she refused to go into Spookers, the gimmicky haunted house that had Tyne whimpering and Issy giggling with joy.
In a brave admission, AJ revealed her life had not been as rosy as some of the other's in the house, but in an even braver move, she made a second attempt to step out on to the Sky bridge "to get fulfillment inside her".
Her resolve earned a big hug from "our Rach" and impressed the judges big-time.
Chris Sisarich who was the master of 'Fear Factor' ceremonies, chuckled and said it reminded him of taunting his sisters with creepy crawlies as a kid, but some, like Aroha, were unimpressed when they realised the tarantulas and wetas weren't real.
But even knowing it was fake didn't help Tyne overcome her arachnophobia in the name of a good photo. This did not raise smiles from the judging panel. Nor did Hillary's "goddess of average" photo and Brigettes's failure to use her looks to her advantage and play the "red hot woman". But Arihana was in her element posing as the goddess of wisdom and knowledge holding a reptile. She cracked her first smile of the series joined Rosanagh at the top of this week's round. Meanwhile Aroha and Tyne, plummeted from front-runners to the bottom two.
Ultimately it was Miss Unpopularity who was sent home to the sanctuary of Arrowtown, away from the frightening big city, and all its demon spiders.
What: New Zealand's Next Top Model
When and where: 7.30pm, TV3