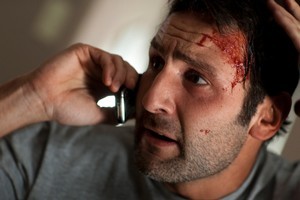 A bloodstained guy bursts through a door into a hallway so violently that he bounces off the wall on the other side. Two guys are after him and it's all on, hell for leather, until traffic on a busy road gets involved (I'll say no more).
That's the opening two minutes of Point Blank, the taut, short thriller that has the second of its three screenings at 4.15pm at the Rialto (a final one is next Tuesday at 6pm at the Bridgeway).
The film's director, Fred Cavaye, was the man behind Pour Elle (Anything for Her) starring Vincent Lindon and Diane Kruger, which did the rounds last year (an American remake, The Next Three Days, directed by Paul Haggis and starring Russell Crowe, went straight to home video).
That film, about a man's battle to prove his wife's innocence and, when he failed, to bust her out of jail, was high-octane and hectic. But beside Point Blank it seems like a pastoral idyll.
The new one, in which a male nurse with a heavily pregnant wife is menaced by some seriously nasty hoods, starts at about 200 km/h and keeps the foot to the floor the whole way.
French cop thrillers (they call them policiers) are the regular not-guilty pleasures of film festivals and I never miss them. You can spend too much time in the dark marvelling at masterpieces, it seems to me: sometimes you just need goodies-and-baddies.
My annual complaint about latecomers drew several responses in support, I see, and a thoughtful email from a woman called Rebecca, who is very plainly a much nicer person than I am. She agreed with me about latecomers - to films or the theatre - but thought I ought to make an exception for the film festival.
For a start, she said that films during the day exclude a lot of employed people - a point that seemed at once obvious and elusive. But she went on more tellingly:
"The earlier evening showings mean a mad dash from work for some. These two weeks are about a celebration of film, and if it means people who genuinely want to be there and be on time, but arrive late because the ticket queue is too long or work runs late, then let so be it. I can cope with these people being a few minutes late."
She hits the spot with the suggestion that, at the Civic where the long rows in the stalls make it certain that a latecomer will disturb others "they could reserve a row for them."
It's great idea which, I seem to remember, I suggested in a blog last year though I can't find it now, so let's give Rebecca the credit. My personal preference would be for latecomers to be held in a fenced-off area so the rest of us could jeer at them as we left but her idea is a little more charitable.
So here's the plan: they could sell the back row of each cinema last and latecomers would be shuffled ignominiously into it. And if the back row is sold out, they could invoke the "Latecomers will not be admitted" clause on the back of your ticket. (Remember: the first "suitable break in a performance" of a movie is when it's over). What do you reckon?
The popularity of Lech Majewski's The Mill and The Cross has outstripped the small cinemas in has been scheduled in so two new screenings are being laid on in Rialto's Cinema Four: Thursday July 28 at 6.20pm and Saturday July 30 at 1.30 pm.
Right, I'm off to Footnote: a deadpan Israeli comedy about academics sounds just weird enough to work.