Scott Kara talks to Circus Incognitus star Jamie Adkins, who insists he's just an average guy.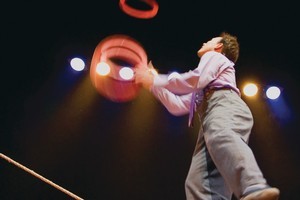 There's a madcap Charlie Chaplin-meets-Vaudeville style to Jamie Adkin's clowning around. Although that might be reading a little too much into it because the American circus performer says his clown is just an "average guy who wears a grey suit".
"It's a regular guy on stage trying to do circus tricks," he laughs on the phone from Sydney where he is on tour with his one-man circus comedy show Circus Incognitus which starts in Auckland on July 28.
And he came up with this normal, everyday clown by looking deep inside himself.
"It's ironic, because physical comedy can be quite silly sometimes, but in order to get to that point it takes a lot of intellectual looking within to figure out 'who am I and what's funny about me?'
"And the one thing I discovered that's funny about me is how completely normal I am. I'm average height, average everything."
Adkins likes to say he didn't choose to be a clown - it chose him. When he was 13 he saw a street performer and was instantly hooked by the combination of juggling and comedy.
"I knew right then what I wanted to do. So I made my biggest life decision at 13 ... I went home and started juggling."
He performed his first show when he was 16 and right from the start he preferred using his circus and acrobatic skills to get laughs rather than applause. "There was something much more real about the laughter, no one pretends to laugh if it's not funny."
Since then he has performed with San Francisco's Pickle Family Circus, Montreal's Cirque Eloize, and later Cirque Du Soleil, before going it alone.
His first solo show, Typo, was about a clown sitting at a typewriter trying to write a clown show ("which is impossible, because a clown show can not be written. It happens in front of an audience and with an audience"), whereas Circus Incognitus is about a clown looking for an audience to perform to.
"For a clown, even if he's alone on stage, he has a partner and that's the audience. There is a connection [between the two] unlike any other theatre show. The clown responds to the audience, the audience responds to the clown and they communicate throughout the show."
Circus Incognitus also has a deeper meaning about facing your fears and giving things a go. It's a show for kids and grown-up kids alike, because as Adkins points out, "People who enjoy the circus are in touch with their inner child".
He incorporates traditional circus routines, like ping-pong ball mouth juggling, and then there are his own creations like catching oranges and grapes on a fork that he holds in his mouth.
"So it's steeped in tradition, and it reminds people of things, but at the same time it's very modern and very new."
But the true beauty of the show is that he creates his circus out of everyday objects. So during the show he tightrope-walks and larks about with two ladders, as well as balancing a sheet of paper on his nose and flipping and doffing his hat.
"I pull out everything I need for the show out of my cardboard box - and it starts with a blank piece that becomes a circus routine, and fruit and a fork becomes a routine where the audience start throwing oranges at me."
LOWDOWN
What: Circus Incognitus, a one-man circus comedy with clown Jamie Adkins.
Where & when: Concert Chamber, Auckland Town Hall, July 28-30 at 11am and 1.30pm (with extra Friday show at 6.30pm)
-TimeOut