Disillusioned by their British label experience, Cut Off Your Hands have now returned with a new album and a brand new attitude. Jacqueline Smith reports.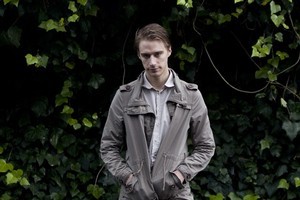 After thrashing their instruments across stages in Europe and America, Auckland band Cut off Your Hands seemingly vanished off the face of the Earth for two years.
But now their extended power nap is over, they are back to appease fans with the release of their sophomore album Hollow, a less restless and chaotic record that comes from a despondent sort of place.
The name Hollow comes from a lead-like exhaustion the band suffered when the hype and adrenalin of the 2008 debut album You and I wore off, says frontman Nick Johnston. Beckoned by the bright lights of Europe, they had upgraded from the small, friendly Auckland gig scene to the world stage, touring for two years solid and scoring a record deal with British record Label 679 (home to The Streets). Bigwigs compared them to Blur and the Kaiser Chiefs.
They abused their instruments, their bodies and, Johnston says, their vision.
When their drummer Brent Harris lost his hearing and had to leave the band, their happy bubble burst. They eventually left the label. It wasn't amicable.
"I guess we weren't what they wanted and they weren't what we wanted, I think they wanted us to be the next Kaiser Chiefs but we always had a different thing in mind. We had started our band playing at punk shows and that's how we saw ourselves. We had these poppy songs but we were misunderstood," he says.
Slinking home to Auckland Johnston and his bandmates agreed to abandon Cut Off Your Hands indefinitely.
Johnston pursued his other dream of studying architecture. The others threw themselves at work and other hobbies.
And then, after two false starts, the music started bubbling again.
Convening at Harris' parents' house when they were away for a week, Cut Off Your Hands began recording new material, the same way they recorded their first EP. A few months later, Hollow was born and they were packing their bags for a tour of the Tasman.
A lot can change in two years. Johnston is no longer the slickest, preppiest-dressed man in the cafe, as he was in previous TimeOut interviews. He is a little more windswept, comfortable. His media schedule is fitted around his university assignments.
And reviewers' early comparisons to Buzzcocks-meets-Beach Boys no longer applies.
Cut off Your Hands no longer sound like unhinged excitable puppies, partly due to all the growing up, but Johnston says they have also been listening to completely different music, things like 80s Aussie indie bands The Church, The Go-Betweens and The Triffids.
"Sort of laid-back but still related to that post-punk or new age I guess," Johnston says.
It's still melodic and chipper these days, but without the sporadic punk that inspired Johnston to make like The Mint Chicks and jump off the furniture. He broke his leg twice doing that.
"We were always so influenced by Iggy Pop or At the Drive in, these post-punk bands where you just throw everything around and go crazy, and now we are more interested in writing a tune and enjoying playing, rather than having to be so athletic. We got so bored of that."
Johnston says he has put more of himself into his lyrics this time and in retrospect, he sees a general theme of "being a bit gutted about the way things turned out".
"There wasn't a lot of thought in lyrics last time, but this time was looking to put something on paper that we wouldn't cringe about in two years' time," he says.
That was when they were in the writing stage, now the band is filled with new-found enthusiasm.
"We did everything we wanted to do when we set up the band really so anything from here is just a bit of fun. That's why we have kept going after all that shit happened at the end of the last cycle. The fact that we are carrying on just shows how much we love it really."
And packing Australian venues with 300 fans prior to the release of Hollow, then securing a place at music festival Splendour in the Grass after spending two years off the radar is really encouraging.
Johnston has enjoyed the contrast between album releases. "Last time it was '100 per cent we are a band' and this time we had other things in our lives. Just this minute I have given my manager the all-clear to book in the States because I've decided to defer studying.
I think we've been getting a little bit more excited about it again, because it has been on our terms."
LOWDOWN
Who: Cut Off Your Hands.
What: Second album Hollow out now.
- TimeOut