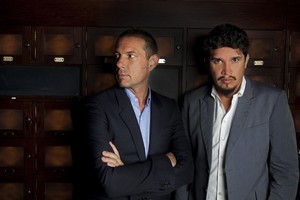 Not content with just conjuring up stylish grooves and skanking reggae lounge music, the dynamically dressed duo of Rob Garza and Eric Hilton have injected more overt political and social messages into their music in recent years.
On last album Radio Retaliation it worked well on the hip New York-meets-Afrobeat rebellion of Vampires, but the sloganeering and naive rapping on Culture of Fear's title track sounds out-of-place and lets their sixth studio record down.
Vocally it's the wistful female singing (on dreamy interlude Where It All Starts) and the eerie, dubby voice of Stargazer, with its skanking bop and dazzling starbursts, where they are at their best.
Compared to Radio Retaliation this is a more mellow album overall, yet it retains a stylish and seductive stealth on tracks such as Is It Over? (which is a cool mix of Inertia Creeps and soul diva whimsy) and the suave swing and shuffle of opener Web of Deception (which has a hint of Stevie Wonder's Superstition about it).
Tower Seven, at almost eight minutes, is an ideal centrepiece with its thudding bass and the marriage of space rock-meets-lounge music that chimes in half way through.
It's the most imaginative and wondrous Thievery Corporation have sounded in years - it's just a shame the rest of the album pads along at such a predictable lilt. Not that it's wallpaper music, more like the best dinner party music in the world, ever.
Stars: 3/5
Verdict: A little too much lounging around
Buy Culture Of Fear
- TimeOut