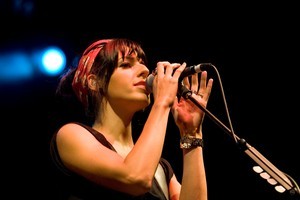 Brooke Fraser hochster Neu-Einstieg in die Charts. That's right, the lovely Kiwi songstress "is the highest new entry in the German charts" and her third album, Flags, has sent the European world a-Twitter.
"Luisteren naar [listening to] Brooke Fraser" said a Dutch fan, and "Eita musica boa, super gostosinha de ouvir [great music, a treat for the ears]," said an enthusiastic Portuguese.
The single Something in the Water has already charted in the German Top 10 and Flags entered the German charts at number six this week, reaching 24th place in Switzerland and 33rd in Austria.
Something In The Water peaked at number three on the Italian radio airplay chart and has just made it on to the Top 40 airplay chart in Holland. The full album will be released in France, Holland, Belgium, Scandinavia and the rest of Europe in September.
Over in Britain, her second single, Betty, is getting airtime on BBC Radio 2, which attracts about 14.5 million listeners.
- TimeOut