Acclaimed for his debut feature, Maria Full of Grace, director Joshua Marston's latest explores a collision between the past and present in Albania. He talks to Peter Calder.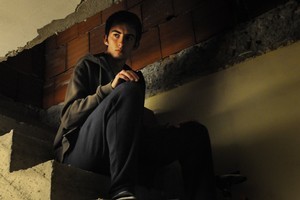 As a feature debut it was quite something. Maria Full of Grace, in 2004, earned an Oscar nomination for Catalina Sandina Moreno in the title role, as a Colombian minimum-wage slave tempted by the prospect of easy money as a drug mule.
The film earned a mantelpiece-full of lesser awards for its writer-director, Joshua Marston, who had worked as a journalist in the Gulf War and an English teacher before deciding in his 30s to take up film-making.
Marston's new film, The Forgiveness of Blood, is set in Albania, against the background of a blood feud dictated by the ancient canon of traditional law called the Kanun: its main characters are teenage sister and brother Rudina and Nik, whose family life is shredded when a conflict with a neighbour escalates into a killing. What the law doesn't catch up with becomes subject to the Kanun.
It's the second time Marston has plunged into a story set in a foreign culture and he says he likes it that way.
"I consider myself a cinematic omnivore. I don't see any reason to restrict myself to stories set in the country where my passport was issued. I had read about Albania and these blood feuds and it seemed interesting.
"I've lived abroad a lot, I guess, and so I like being in a foreign context and learning a new language and learning about a new world."
The new world in this case was an old one - the Kanun, whose roots may reach as far back as the Bronze Age. But Marston's film takes place on the edge between old and new: the kids' lives are ruled by people who cling to tradition but their cellphones figure prominently.
"It's set where the traditional meets the modern," the director says. "I liked that juxtaposition because it made it a story about a moment in Albanian society when everything seems to be in transition, the rub of what happens when new ideas confront old ways of thinking."
The cultural specificity of the Kanun element in the story does not rob the film of wider application - not least because the Kanun has equivalents in other cultures - because it is really a film about "the turmoil of two kids growing up".
The story took shape after Marston kept reading articles about blood feuds in Albania. ("It tends to be the thing that gets written about Albania in the foreign press, the same way that when they write about Sicily they never talk about the wonderful food, they just write about the Mafia.") He met an Albanian film-maker in New York - Andamion Murataj, who is credited as co-writer - and they travelled to the country to do some research.
Perhaps surprisingly, he encountered little suspicion as a nosy American.
"Albanian culture has a very strong tradition of hospitality," he explains, "so I was warmly welcomed everywhere. I would see a town similar to the town in the story we were writing and I would stop and talk to someone in the street and 10 minutes later would find myself in their house drinking tea and brandy as they told me stories about their family.
"When you are visiting a family that is in a blood feud, the narrative of how they ended up in that feud and what the dispute was is something that they have had plenty of time to go over in their heads, so telling it is not necessarily a difficult or painful thing."
It helped that he was working on a fiction film rather than writing a newspaper article using the real names of people he spoke to, he says.
"When I arrived in Albania, I already had the idea for the film. It was about a 17-year-old boy struggling with the fact that the older generation had forced him into something that was not his fault.
"In that way it's like Maria Full of Grace [whose main character is also 17]. There's something fascinating about that age, when you are at a crossroads, trying to figure out what life is about and define your independence."
Lowdown
Who: Joshua Marston, American director with cross-cultural interests
What: The Forgiveness of Blood
When and where: Has three Auckland screenings next week as part of the New Zealand International Film Festival
- TimeOut