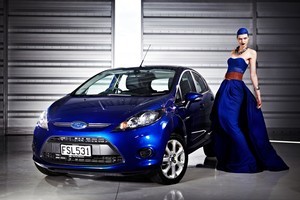 Like the pinata they bashed around at their bubbly-fuelled party the other night, the camaraderie in New Zealand's Next Top Model house seems broken beyond repair - at least if certain personalities stay in the competition. Tyne's in tears after being accused of having eating issues.
Could fellow front-runner and crowd favourite Aroha be a perpetrator? It would make good television if she was, and that's exactly what Sara alludes to at eliminations. She also tells Tyne she should not let the other girls bully her. "This is not high school".
But the other contestants know the Arrowtown teen, who seems to be suffering from a bad case of mummy-withdrawals, has mastered the act of the "chameleon".
It's a quality Sara repeatedly stresses she is looking for - someone who can flash different colours in different surroundings. But in Tyne's case it means snapping at the girls, smiling at the judges, and shining in photo shoots, this week with blue painted hair. She rips the diversity crown from poor old Bianca, the show's rhythmically-challenged "swan" who looks like she is sniffing her armpit in her disjointed photo.
Bianca may need to stop flashing the victim card in order to stay in the competition as Colin says he is sick of hearing her excuses. Nervy AJ, on the other hand, flukes her way through to the next round, despite flunking the makeup challenge where she applies blush to her left eye and her right chin.
Issy doesn't do much better, she doesn't really like wearing gunk on her face, and she also hates looking sexy. It makes her squirm. But she redeems herself in front of the wind machines, with a photo judges say proves she is a "serious contender".
Amber, on the other hand, fails to throw caution, and her fabric, into the wind and is out-modelled by the car in the background. She might have the legs, but it's her remote-controlled personality that sends her packing, much as it might have neutralised the egos in the house.
What: New Zealand's Next Top Model
When and where: Friday 7.30pm, TV3