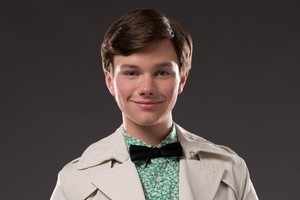 Glee star Chris Colfer says he found out he won't be treading the halls of McKinley High during season 4 of Fox's hit series via Twitter.
Show co-creator Ryan Murphy confirmed in an interview with The Hollywood Reporter yesterday that series alums Colfer (Kurt), Lea Michele (Rachel) and Cory Monteith (Finn) "are not going to be back at all for Season 4".
But Gleeks had been forewarned.
In June, the Glee boss told Ryan Seacrest that the stars entering their senior year at McKinley High would graduate from the show at the end of the upcoming season.
Murphy told THR on Thursday: "You can keep them on the show for six years and people will criticize you for not being realistic," he said, "or you can be really true to life and say when they started the show they were very clearly sophomores and they should graduate at the end of their senior year."
He also said that both Colfer and Michele were involved in the talks about their characters graduating, and were down with the decision.
"We made that decision and I involved Chris and Lea and they thought that was a good idea. They both trust the writing and trust me and felt that it would be great to have an open and closed experience for them to go out while they were on top," he said.
Asked whether Monteith was also in on the graduation plans, Murphy said, "He knows he was a sophomore when the show started."
However, sources told Access Hollywood that the actors had "no idea" the news was imminent.
Colfer, who also received his second Emmy nomination for playing Kurt Hummel today, echoed this sentiment in an interview with Access.
"Yesterday on Twitter," Colfer said when asked how he learned about his exit.
"Yeah, I found out that they made that announcement. I didn't necessarily know that it was going to be our last season next year, I knew something like that was coming up eventually. I mean, we can't be there forever.
"I don't necessarily want to leave so soon, but I mean, it's fine. It's what it is. And all things come to an end," he added.
"As a performer, I feel so fulfilled. I have two Emmy nominations and just from hearing from people out in the world about how much the character has helped people," Colfer added. "If it's time for a conclusion, I'm fulfilled with it, and I'm fine with it."
He also told Entertainment Tonight "I looked on my Twitter replies and that's how I found out, I was like, oh, oh, okay, I guess they announced something."
However, he adds that the news didn't come as a complete surprise.
"We had kind of known since the beginning, since we started the show, that these characters were going to grow up and they were going to graduate eventually. I don't think I thought it was going to happen so soon, necessarily, but I think we knew something like this was coming."
Charming. A 'ricochet' firing via the press.
But Chris isn't bitter.
"I would love to pull a Farrah Fawcett from Charlie's Angels and come back every 10th episode," he said. "I'd be the obnoxious recurring star!"
Play your cards right and you might end up with another permanent gig, Colfer.
Rumour has it that Murhpy has bigger plans for you.
RumorFix.com says that Michele and Colfer are reportedly getting their own spin-off.
A source close to the show tells the website that the spin-off show would place the characters in New York - and possibly continue a storyline that featured in the latest season where the pair performed on Broadway.
There's been no official word from Murphy's camp on the spin-off report. But keep in mind that Murphy also told THR: "I'm much more interested in Lea's character - not so much on her relationship with Finn, but more on what her dreams are beyond high school and how she plans on getting them."
Sure sounds like Rachel will live on.
The Glee Club's leading lady also reached out to fans on Twitter, assuring them that although her days on the show are numbered, it's not the end.
"We always knew we'd graduate in real time. It's all part of the plan and it's all good!" she tweeted . "To Gleeks everywhere, you're in my heart now and forever. Love u all!"
She added: "This is just the beginning."
How cryptic.
I shall keep you fully updated, Gleeks!
Meanwhile, check out the trailer for Glee: The 3D Concert Movie below:
The movie hits NZ cinemas on August 11.
Mother Mermaid
First she hatches out of a synthetic egg at the 2011 VMAs, and now Lady Gaga's the target of eggy missiles Down Under. Oh, the irony.
But first, Mother Monster has apparently kicked off a right old fuss after she rolled out (literally) in a wheelchair to sing new track You and I during a stage show in Sydney on Wednesday.
Gaga graced the Sydney Town Hall with her presence, dressed as alter ego Yuyi the Mermaid. Think black shroud, black flipper and blue rinse barnet to complete the fishy ensemble.
Video below (check out the wheelchair stunt at the 1min 40sec mark):
The quirky warbler has since been slammed by disability groups for the wheelchair stunt.
Founder of America's Life Rolls On Foundation, Jesse Billauer, told RadarOnline : "I haven't seen Lady Gaga's performance, but respect her artistic expression as an artist. Since this isn't the first time she has used a wheelchair in her performances, I invite her to learn more about the 5.6 million Americans who live with paralysis."
He added: "They, like me, unfortunately, don't use a wheelchair for shock value."
A rep for the Roman Reed Foundation posted a message to Gaga on Twitter saying, "Dear @ladygaga how about using your celebrity status 2 try 2 get us out of wheelchairs. Instead of cruising one. Cool?"
Gaga previously appeared in a wheelchair for her Paparazzi video, and was criticised by disability organisations and advocacy groups. The singer told Vanity Fair that the use of a wheelchair was symbolic of "watching the celebrity fall apart".
As for the eggy projectiles, the UK's Metro Online reports that the hitmaker and her entourage were pelted while exiting hotspot Arq after a performance.
Although Gaga managed to dodge the offending articles, one of her minions wasn't so lucky .
Gaga has also opened up about her new fishy alter ego during an interview on Taiwanese talk show Channel V.
"Yuyi is in incubation, for anyone who knows what that means," she revealed.
Haven't the foggiest, love. Indulge us.
She elaborated that Yuyi will feature in the video for the next single from her Born This Way album.
"The relation of the video to my real life, as well as to my dream of the future, is really what makes it so special. Part of what Born This Way is all about is choosing to live halfway between reality and fantasy at all times, and how anyone can do that.
"So this video really, really challenges that idea and also celebrates it. And it's very exciting."
New girl for Clooney?
Is former flame Elisabetta Canalis already a distant memory for silver fox George Clooney?
Word at the water cooler says Clooney will have a new gal on his arm when he hits the Venice Film Festival next month.
True? Negative says the big man himself.
Clooney says in a statement "The Italian press, from Corriere Della Sera to TGCOM, Ansa, NewNotizie, Sky.it and even Vanity Fair are all running a story that quotes me as saying that I'm bringing a 'new girl' to the Venice film festival. I never made that statement and it's not true. It was made up to sell tabloid magazines. It's a ridiculous lie and should be corrected as publicly as it was originally written."
They killed Gwyneth Paltrow!
In a movie.
Poor Gwyneth Palrow, she doesn't look so hot in the just-released trailer for Steven Soderbergh's new flick, Contagion.
The actress/lifestyle guru plays a woman who falls victim to a deadly virus that's threatening the existence of the human race. Just a simple touch of the hand is enough to catch the dreaded lurgy!
Check out this classic still of Paltrow in the movie. That's quite the grimace. I bet you someone was trying to feed her cheese from a can. It's her favourite.
Paltrow was quoted as saying last week that she would rather do crack than squirt canned cheese. Says so here .
The cast of Contagion includes Paltrow, Matt Damon, Jude Law (ooh, it's like a Talented Mr. Ripley reunion) Marion Cotillard, Laurence Fishburne, Kate Winslet and Sanaa Lathan.
Check out the trailer:
Eek! Now where did I put that hand sanitizer...
The movie hits on September 9.
Blogger Bites Back
* Read more celebrity news and gossip from Myrddin Gwynedd (MG) here
P.S.
While you're down here...
Please vote for this blog again in the Net Guide Awards' Best Blog category. Voting closes August 16.

Diolch yn fawr iawn i chi gyd!