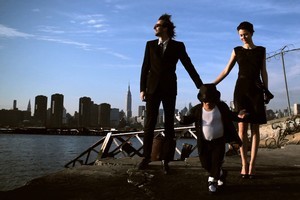 There's method in the apparent madness of making tonight's screening of Florian Habicht's Love Story the only one in the festival.
It marks the third time in four years that a film with a New Zealand connection has kicked off proceedings. Sima Urale's Apron Strings set the ball rolling in 2008 and Wellington-born Jane Campion's UK-Australian co-pro Bright Star in 09.
(Urale's film had other screenings in the programme, but Bright Star did not though this may have had less to do with the programmers' wishes than with the erratic if not downright odd Campion: she consented to one interview for the later NZ release and gave it to that bastion of cinema journalism, Next magazine).
Anyway, tonight's it for Love Story and the good news is that there are still excellent seats available at the mighty Civic.
The fact that it's a one-off will ensure that the film's world-premiere showing will get the razzamatazz it deserves and that filmgoers who, like me, hate big crowds of popcorn-crunchers and chatterers, can't sneak into a screening on a wet afternoon in the middle of the festival fortnight.
Florian himself will be in attendance and will speak before the screening. It seems odd to say, but I've never clapped eyes on the man who's given all of us so much pleasure over the years since his digital-feature debut Woodenhead.
Kaikohe Demolition and Land of the Long White Cloud are classic pieces of art Kiwiana - I personally thought the former better than the latter - and Rubbings from a Live Man, his portrait of the visionary homemade theatrical impresario Warwick Broadhead, was a perfect marriage of form and content.
Then from tomorrow it's all go: 17 days of cinematic frenzy. Actually, I'm taking it quietly this year.
I've been lucky enough to chew through preview screeners of many of the documentary films - it's as good a line-up as I can remember and that's saying something (not only because I usually can't remember stuff but also because the doco programme is always pretty damn fine).
With all that preparatory watching, I'm only booked for 35 or so, but I may go to other things on impulse particularly if I get wind from you that I have no idea what I missed.
I'll be blogging daily from the festival - planning to make good use of the free wifi in the Festival Café down in the old Wintergarden - and those cybersavvy whizzes at nzherald.co.nz will doubtless get it all zooming around on Twatter or Farcebook or all those other things that scare the bejeesus out of me because I'm still trying to figure out how my fax machine works.
I hope you'll take the trouble to get in touch with your highs and lows, grumbles and cheers. See you at the pictures ...