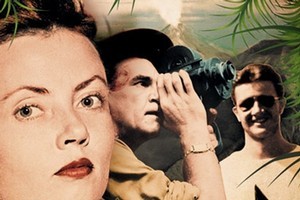 Though I'm reading non-fiction for this month's book club - and I read a novel based on a true story last month - I prefer pure fiction.
I'm in awe of writers who can start with a blank screen and an imagination and create a world that sucks you in, forcing you to believe and to care.
I often feel a sense of loss when I finish a great novel, no matter how happy the ending, because (bar sequels) the characters' lives dissolve when they walk off the page. They shall not grow old.
Therein lies the beauty of non-fiction. The journey doesn't have to end on the last page. One book can lead to another, and another. This year, as well as reading plenty of fiction, I've developed an obsession with unflinching 21st century war memoirs.
It started with Generation Kill, the 2004 account of Rolling Stone journalist Evan Wright.
Wright was embedded with an elite US marines unit for the first two months of the Iraq War and his book, which was made into a television mini-series, is a horrifying yet somehow hugely entertaining tale of heroism and machismo stupidity, of bureaucracy and frustration, of foul-mouthed kids with guns.
That led me to the more gentlemanly One Bullet Away: The Making of a Marine Officer, the memoir of the ivy-league lieutenant in Wright's unit, and then to the movie-spawning Jarhead: A Marine's Chronicle of the Gulf War, by Anthony Swofford.
The latest in the trend is former lieutenant Matt Gallagher's new release Kaboom: Embracing the Suck in a Savage Little War, which began life as an acerbic blog that became so popular it was shut down by the US Army.
I've already decided where this month's feature read, Lost in Shangri-La: Escape from a Hidden World, will lead me. Lost in Shangri-La, by American journalism professor Mitchell Zuckoff, recounts the true story of three US Army staff (to continue with my military theme of 2011) who are the only survivors of a plane crash in dense uncharted New Guinean jungle in World War II.
By the title alone, it's obvious that the logical follow-up will be last year's Unbroken: A World War II Story of Survival, Resilience, and Redemption by Laura Hillenbrand, a 2010 release along similar lines.
I can almost do a copy-and-paste of my description above of Lost in Shangri-La: three US Army staff are the only survivors of a plane crash in the Pacific in 1943...
Both the downfall and the strength of non-fiction is that it doesn't always play to the conventional rules of plotting (though real-life stories that do follow those conventions are usually those that are turned into books). You can end up with a meandering tale but the ending can be less predictable than fiction.
As I've previously mentioned in this blog, I've donned blinkers to avoid finding out what happens in Lost in Shangri-La - to the extent of refusing to read the back cover blurb. I can't complain, then, that it hasn't quite become the boy's own adventure story I'd convinced myself it would be.
I assumed the three crash survivors would have to rely on only themselves - and perhaps the mercy of Stone Age tribesmen - to escape the jungle. But that's what would have happened in an adventure novel, and not necessarily in a true story.
The word "escape" in the book's subtitle is misleading. It really should be "rescue from a hidden world". Shortly after the downed trio manage to successfully signal to a search plane, they become passive players in what becomes an ever-more bewildering - and entertaining - story.
I'm at the two-thirds mark, and I really can't predict what will happen next. And that's a great place to be.
*The winners of this month's Fiction Addiction competition are Joanne Giles, Sarah Jackson and Dick Brown. They will each receive a copy of this month's feature books, Lost in Shangri-La and Christine's read, The Larnachs.