Tiny Ruins, aka Hollie Fullbrook, is off across the Tasman promoting her début album.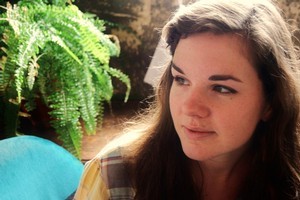 Hollie Fullbrook was just 7 when she wrote her first song. She laughs and shuffles nervously in her seat as she reveals its content.
"It was kind of a bizarre thing to write as a 7-year-old, but it was about a political uprising in Copenhagen," says the British-born singer, who is now based in Auckland.
She's right. It is a little out of the ordinary to write songs about imaginary revolutions in far-flung places when you're still in primary school.
But when you consider that at 25, Fullbrook - the shy singer behind the Tiny Ruins moniker - has just released one of the most sophisticated and moving albums of the year, it all fits into place.
Fullbrook has been likened to alt-country/folk singers such as Joanna Newsom and Jolie Holland on her début Some Were Meant For Sea. It's remarkable then, that she should admit to having only fully embraced her singing voice within the past few years.
"I always loved music from a really early age. But all through my teens I never thought I was a good singer. I didn't like my voice at all, until I was maybe 23," she says.
"So to even be compared to Joanna Newsom and Jolie Holland - you know. I love them, I'm flattered."
Fullbrook is genuinely humbled by the overwhelmingly positive response she's had to the album. Following a whistle-stop New Zealand tour, she's now tackling crowds across the Tasman, from Brisbane to Perth, despite the odd bout of nerves.
"Starting off at the Wine Cellar [in Auckland] I had terrible stage fright. Just going up there on your own is really the most nerve-racking experience you can have.
"But performing is a real joy. It's something that's completely different from recording - everything falls away and you're just in the moment."
Already another album is on the cards. "I'm working on new material," she reveals. "I've already got half the amount of songs I need. I feel like that's my focus. I'll keep a low profile and keep writing and performing it."
Tiny Ruins' debut album, Some Were Meant For Sea, is out now. Visit tinyruins.com for upcoming gigs.