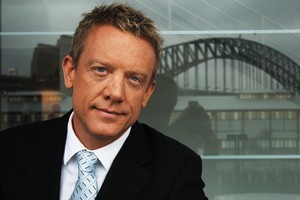 Australian actors are facing one of their toughest gigs - saving Australian roles for Australians.
Imagine Packed to the Rafters with an American lead, or the cast of Neighbours dominated by British actors, or the blockbuster film Australia starring non-Australians.
This is what the actors' union, Actors Equity, says the Australian production industry could become if the federal government brings in proposed changes to the rules allowing foreign performers in local productions.
About 100 Australian actors met in Melbourne on Sunday to express their anger and concern over the draft Foreign Performers Certification Scheme Guidelines, prepared by the Office of the Arts.
They are threatening to take industrial action not seen in the Australian production industry for more than 30 years if the issue isn't resolved to an "acceptable outcome".
Justine Clarke - star of television, film and stage productions including Tangle, Danny Deckchair and Hedda Gabler - said many actors who had established international careers got their breaks in local commercials or TV shows.
Under the new rules, these could be flooded with foreign talent, reducing the opportunities for local actors.
"The rules that we have now have assisted, supported and nurtured Australian performers and launched the international careers of all our wonderful big stars, whilst keeping us local actors in work and in hearty contribution to the rich cultural landscape of our country," she said.
Clarke said the government's decision to make drastic changes without discussing them with industry stakeholders was baffling and concerning.
Stage and screen actor and Equity president Simon Burke said if the current rules applied Jacki Weaver might never have been given the opportunity to wow audiences with her Oscar-nominated turn in Animal Kingdom.
Burke said history showed that using international stars didn't always mean box-office success.
He said he was "bewildered and disgusted" that the proposal had come from the same government that enlisted the help of high-profile actors Cate Blanchett and Michael Caton to sell its carbon tax policy.
"Right in the middle of the controversy that followed for Cate and Michael ... the Labor government at that precise moment declared its intention to rip up the rules in respect to imported artists and to sell Australian artists down the river," he said.
"With John Howard and WorkChoices we had to fight for our rights at work, but with this mob it's going to be more basic than that - it's going to be our right to work."
The Office of the Arts has given industry stakeholders until July 27 to respond to the proposed changes.
The union has launched a video - Save spaces for Aussie faces - and more than 3000 people have so far signed the union's online petition.
-AAP