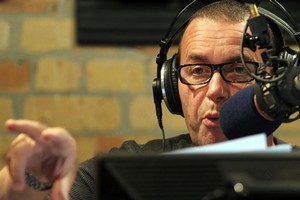 Paul Henry is sick.
Four days into his new job as Radio Live drive presenter and the famous voice is stalling.
He coughs and splutters into action like one of those wretched second-hand Alfa Romeos that he despises.
But as soon as Studio 1's red light flickers on, Henry is pure Rolls-Royce.
He cackles at the over-the-top intro describing him as having "award-winning opinions" and the voice drops an octave. "Good afternoon to you New Zealand."
Welcome to the Paul Henry show. No question is written down. The listeners who complain are "a potpourri of crazies".
He gesticulates and looks out at his producer with the naughty schoolboy grin while poking fun at contributors.
Henry has complete editorial control over the show and, unshackled by the TVNZ machine, calls the shots.
Just like the $700,000 Rolls-Royce Phantom that he covets, Henry lurches from 0 to 100km/h in 5.8 seconds. His eye is constantly monitoring the studio's clock - and he is always "shittered" for time.
Henry arrives at Radio Live's offices half an hour before the show starts after a boozy lunch with TV3 executives.
He doses up on a cocktail of Difflam, Nasal spray, soothers and lozenges.
"If this mixes with the alcohol, I could hit the ceiling," he says.
Long-suffering producer Mark Wilson has been busy setting up interviews for several hours. Wilson doesn't drive a Rolls-Royce - he drives an Alfa. The pair bicker about the afternoon line-up.
"Why the f*** can't we have him on at 5.10pm?" Henry barks.
Banter aside, it's a slow news day on a slow news week.
That's largely irrelevant - this is all about Henry. The humour remains the same. Fat people, poor people, funny accents, funny names; they all come in for a serve.
"That Difflam was 24 bucks," he cries. "What happens when poor people get a sore throat, that's what I'd like to know."
The first hour is a magazine-style show with Henry's mate, Annabel White, coming in to talk about etiquette.
"How ironic, that we should be talking about this," says White.
The stories veer from politics to the tabloid hacking scandal and looming global food crisis.
He claims to be really interested in every topic, even if the sarcasm in his voice tells a different tale.
During ad breaks, Henry shares stories about his father, his poverty-ridden days in a council flat in England, his war reporting, his mother.
Almost unnoticeable is the woman sitting through the glass barrier, Henry's long-term girlfriend, Linzi Dryburgh.
Dryburgh is in Henry's ear for the full three hours, providing helpful advice on how long until the next advert or when the news bulletin will end. She describes her role as "getting everything to air and pushing all the buttons".
"The main thing is just not to panic," she says. "And knowing the next three things that are going to happen."
Wilson wanders in, still busy trying to set up an interview, this time with a star British talkshow host.
"Graham Norton is on holiday and he can't do the interview any earlier than 8pm tomorrow night."
Henry replies: "I think Graham Norton should be told that while he's not prepared to get up a little earlier while on holiday, Paul Henry is not prepared to wait a little later on a Friday night."
Wilson believes Henry's broadcasting talents are better suited to radio than television.
"In radio you have that space to breath," Wilson says. "He can go off-piste. He needs that."
The interview that really gets Henry riled up is with Green MP Gareth Hughes, who is sleeping rough for charity.
"Quite frankly, I think it's condescending, it's insulting, it's hideous."
He mocks his "kia ora" greeting and berates Hughes for tweeting.
"Homeless people don't lie in carparks tweeting. Homeless people don't have something to do, do they? Will you be drinking alcohol from plastic bags? Then it's not right, because homeless people have alcohol from paper bags."
Afterwards he appears remorseful, as if he has been too hard on the young, earnest Green MP.
Maybe Henry really is feeling unwell?
"You can't wind up a f***ing Green because they've got the obligation of the world on their f***ing shoulders."
Okay, maybe not.
At the end Henry is happy with how the show went.
"I hope people realise it is done for fun, and if they don't - well, too bad."