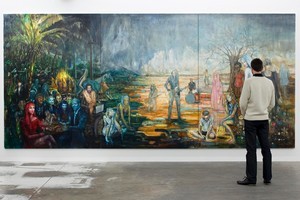 This week we see three exhibitions by outstanding New Zealand artists, each powerful in different ways - surreal and symbolic, expressionist and classically smooth, richly atmospheric and energetically abstract.
Liz Maw, whose show This Has to Do With Me is at the Ivan Anthony Gallery, established her considerable reputation with big polished paintings of figures that glowed against dark backgrounds and were offered like icons by being presented in wide, deep conventional frames. She began with an image of the Queen and went on from there.
She has tended to exhibit single paintings. Once the whole large gallery of Artspace was given over to her image of fellow artist, Francis Upritchard. That visionary portrait can be seen again in this exhibition, which includes far more startling things.
The greatest impact is made by an opulent female nude in the artist's characteristic shades of blue. The smooth shape of this stylised but striking figure is topped by a woman in a medieval linen headdress in the manner of a painting of a woman by Robert Campin in the National Gallery in London.
It is called Lady Kathryn and I.
The head and the headdress are splendidly painted with precise details like little white catchlights to make the eyes sparkle, while the use of a delicate pink in the eyes harmonises them with the prevailing blue. The opulent blue body is bold but it suggests that, under the serene persona of the heavily clad head, the woman and those who meet her are thinking of the reality of the body underlying her clothes. The body is in Maw's special combination of curiously real and idealised smoothness, as might be in a dream.
The concept of reality and dream is also seen in a painting of a young woman and a dragon connected with a ribbon. Called Callan's Secret, the image instantly evokes St George and the Dragon. In the legend, the saint did not immediately kill the dragon but wounded it. The princess he rescued was able to lead it with her girdle as can be seen in the famous painting by Uccello, also in the National Gallery. The secret of the title is the woman's.
The dragon is spectacular but rather plastic. It suggests forces and desires easily controlled by the maiden.
Additionally, in a departure from her previous practice, Maw is showing some very small paintings. Tomb is a study of light, dark and shape. It shows a huge spherical stone before the portal of a tomb. Light floods from beyond. For all its small size, it is a very potent image.
Grim Reaper shows Death as an attractive young woman carrying a scythe, showing a slender leg against a background of tears. The Reaper as an attractive woman is a highly Romantic trope found in the work of late 19th century Symbolists such as Malzewski and Schwabe.
The turn of the 20th century, the Symbolists and the decadent version of Romanticism are also evoked by the largest works of Seraphine Pick at the Michael Lett Gallery.
When Pick gained attention as a young artist her works had a dense, cloudy surface from under which images swam in view, scratched and painted as if welling up from the depths of thought and memory. It was a special world of her own. Now the clouds are swept away, the images are much more apparent but there is still a world of memories, tension, relationships and situations crowded inside the artist's head.
At the centre is a large painting called Everything is Old and New Again. Whereas Maw's work is classically smooth and polished, Pick's is hectic and painterly. The agitated nature of her protagonists is reflected in the nervous expressive brushwork. Everything is Old is an expansive landscape under a leaden sky, crowded with people, each one a bizarre memory: a singer is isolated on the edge of a shore, a woman wearing a fox fur looks demonic, people under a palm tree gather around a table, which has a monkey in the centre. The people are tense and behind them are haunting masks. Further back a nude woman rides a pale horse like the victim of some obscure punishment. Behind her is a dim forest with houses beyond.
Another horseman rides in the forest. The whole is an extraordinarily bizarre vision which has passages of considerable beauty like a great bunch of flowers on the right of the painting. The flowers look hectic and vivid in contrast to the pale body of a woman above them.
There is a deep feeling that each figure, and there are a multitude of them, is a different aspect of one personality.
The total effect weaves together incident and emotion with rich brushwork to make a fascinating panorama of life seen by a perceptive eye.
The haunted quality of the big work carries into the smaller pieces. Lone Wolf is a man in a suit lost in a forest. Torn Up Phrases shows a couple - the man isolated in reflecting puddles of water, the woman further away through the trees menaced by or playing with a coiling snake. They are an eternal but modern Adam and Eve.
There are also several portraits where the faces are likenesses but have a disturbing quality which recall the painting and music of Arnold Schoenberg in a work like his Pierrot Lunaire.
Pick also includes a constant reference to music in paintings such as Bottle of Smoke, where two figures on a wide plain sing desperately into microphones that sprout like tall mushrooms around them. The show is an intense vision of the dark side of Romanticism.
Across town at the Warwick Henderson Gallery, Philippa Blair returns from her American base with a big exhibition of paintings done in her characteristic manner with tons of attack and a sense of lightning decisions but with a new softer palette of colour.
The impetuosity of her approach as the paint is slashed on, scraped and pushed around is Blair at her most dashing.
It is at its best when there is just a hint of an organising grid or perspective that holds the multiplicity of incident together.
The show has many hits and a couple of misses but her new approach to colour gives just a hint of a natural landscape in the lovely Tutukaka (Parrot Perch). Other works are shot through with accents of black and, overall, there is a beguiling invitation to participate in the artist's delight in paint and painting.
At the galleries
What: This Has to Do With Me, by Liz Maw
Where and when: Ivan Anthony Gallery, 312 Karangahape Rd, to July 23
TJ says: Maw continues her highly individual combination of reality and dream in polished images large and small.
What: Torn Up Phrases, by Seraphine Pick
Where and when: Michael Lett Gallery, 2/285 Great North Rd, to August 13
TJ says: Atmospheric explorations, sometimes on a large scale, of groups and individuals who symbolise situations, memories and personalities in expressionist landscapes.
What: Camouflage, by Philippa Blair
Where and when: Warwick Henderson Gallery, 32 Bath St, Parnell, to July 16
TJ says: Blair's long-established style of energetically improvised abstraction is modulated through a palette of new colour.
Check out your local galleries here.