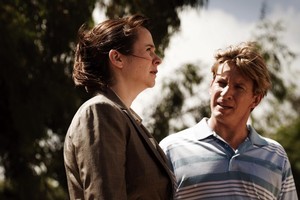 As a father, David Wenham jumped at the chance to highlight one of the darkest chapters in Australia's historical association with the UK.
In his next film, Oranges and Sunshine, Wenham plays one of the thousands of illegitimate British children who were systemically snatched from orphanages and shipped to Australia, often into a life of hardship and abuse.
"It's a hideous part of our history that only ended in the 1970s and one that I don't think is very well known," Wenham says.
"It's staggering when you realise the amount of people involved and affected by it and that for so many years it was swept under the carpet and forgotten about."
Directed by Jim Loach, Oranges and Sunshine tells the true story of English social worker Margaret Humphreys (played by Emily Watson) who came across the scandal in the '80s.
She spent the best part of her life fighting for justice and trying to reunite families, eventually winning apologies from both the British and Australian governments last year.
Wenham plays one of an estimated 100,000 "transportees" who were stripped of their heritage from a young age and given a new identity, only to discover the promise of "sunshine and oranges" hid a more sinister truth. "The children were sent to different places dotted around the country, some of them run by Barnardos, some by the Christian Brothers, by a number of different charities," Wenham said.
"But others were put to work in farms or sent to middle of Australia in very harsh conditions, often being forced to build schools with their bare hands lugging materials across the Outback aged just seven or eight.
"The lives they led were not the way they were led to believe and there were some horrendous cases of abuse."
As part of his research Wenham travelled to Perth to meet some of the people who'd suffered under a system introduced by governments of the time as a way of cutting childcare costs.
He discovered that despite being lied to, and in many cases falsely told their parents had died many years ago, most of the affected refused to be treated like victims.
"The stories are genuinely heartbreaking and although it's affected them all to varying degrees most just want to move on," Wenham said.
"My character is fascinating because from the exterior it seems like he's not affected by what's happened to him, but the exterior belies the truth."
Wenham is famous for playing fictional characters in fantasy blockbusters like the Lord Of The Rings trilogy, Van Helsing and 300 as well as television series Killing Time.
Lowdown
Who: David Wenham
What: Oranges and Sunshine
When: Opens at cinemas on August 4
- AAP