A new movie shows how Harry Belafonte joined the dots between Kennedy, Dylan, King and Brando. He talks to Helen Barlow.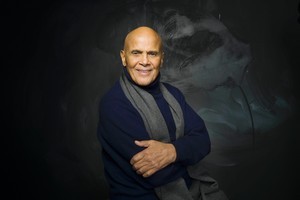 Harry Belafonte doesn't mind seeing his life flash in front of him. In fact, the 84-year-old singer-turned civil rights activist has been rather enjoying the experience as the documentary of his career, Sing Your Song, has been applauded on the global film festival circuit with Belafonte there to revel in the reception.
Speaking in Berlin, he says the film has served as a legacy of his life and work.
The death of his friend Marlon Brando in 2004 helped encourage him to make the documentary as little was known about the actor's work as a social activist, and when Brando died he was saddened not just at losing a friend and a great artist "but that also the history books had lost a story".
Belafonte says his daughter, Gina, who co-produced the film, had been pressing him to put his life in a film which would document the people with whom he'd shared it.
"It means a lot to me because it validates the journey," Belafonte says, with his trusted walking stick nearby.
"It's great that people are still interested, fascinated, that a new generation is awakened to what happened and can see another dimension of how it happened and are moved by it."
The film shows how in his heyday Belafonte helped fund the campaigns of his good friend Martin Luther King jr and helped organise the March on Washington in 1963. He gave helpful advice tips on racial issues to up-and-coming senator John F. Kennedy and was friends with Brando and Bob Dylan, who in his first ever recording session played harmonica on Belafonte's Midnight Special album.
"He played the harmonica in the title song and he did it very well," Belafonte recalls. Did he think Dylan was going to go places at the time? "No, he was a strange dude! Bob Dylan did his thing and walked out. He was in and out and I wondered about him, only to find out not long afterwards that he was this incredible poet."
Though Belafonte points out that Dylan has admitted being influenced by their time together, Belafonte's own greatest mentor was the African-American singer and activist, Paul Robeson. "Get them to sing your song and they'll want to know who you are," he recalls Robeson telling him.
"Then there was a succession of experiences with Eleanor Roosevelt and John Kennedy and certainly Nelson Mandela. There were experiences and encounters that continued to enlarge my sense of purpose and give me the platform to make a difference."
Born to a Jamaican mother and a father from Martinique who deserted the family home, Belafonte had a tough early life and grew up in Jamaica with his grandmother. Initially he sang only to support himself, as he wanted to be an actor. He studied with the likes of Brando, Tony Curtis and Sidney Poitier and won a coveted Tony for his stage work. Yet when his 1956 album Calypso became the first LP to sell more than one million copies, he realised his future direction.
Sexy and magnetic he wooed audiences on stage and on television, most famously with The Banana Boat Song and Jamaica Farewell, though he also sang the blues, folk, gospel, show tunes.
"I was not unaware of my environment, I was not unaware of how I interface with people," he concedes. "I was not unaware of the sexuality of my life, the economics of my life, the race of my life. I was sensitive and open to all of it. I denied none of it, but it all came together in service of itself."
Driven by his childhood experiences, he possessed an unflappable optimism that helped him survive harsh times. He also had a sense of humour and probably didn't seem like too much of a threat. He even sang with The Muppets.
"I don't know why I made it through when so many of my friends didn't. So much about my life still mystifies me."
Belafonte gave up live performing in 2004 following a few health problems. "I was on stage in Hamburg and I said that it doesn't get any better than this, now is a good time to step away and leave with dignity."
LOWDOWN
Who: Harry Belafonte
What: Sing Your Song
When and where: NZ International Film Festival, Auckland July 20 and 26
- TimeOut / Additional reporting AP