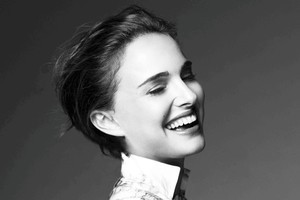 She's notoriously tight-lipped about her private life, so it's no wonder we've been left guessing what Natalie Portman has named her newborn son - until now.
Maybe.
The actress and fiancé Benjamin Millepied welcomed a son in mid-June, People reported. Although there was no official confirmation from the Black Swan star that she actually popped. Not that we needed it. News of a celebrity birth travels faster than a speeding bullet.
Rumours abound today that Israeli-born Portman (real name Natalie Hershlag), 30, has called her three-week-old son...wait for it...you'll never guess...

According to an Israeli TV show, Good Evening with Guy Pines, (via Israel Hayom) Portman has named her son Aleph - which is the first letter of the Hebrew alphabet and can also be spelled Alef.
The Huffington Post reports it received a tip last month that Portman had indeed named her son Aleph, but that her spokesperson kept mum on the subject.
People also claims to 'confirm' the name of Portman's newborn.
Predictably, there's been no comment from Portman's camp. And I wouldn't hold my breath. She's remaining true to her word and keeping a very low profile.
She said back in January: "I'll be out of the public eye after [the baby's born]," adding that she will figure out future career opportunities "as it comes."
Now that we have a mooted name for the bambino, how about a snapshot of mini Millepied? Fat chance. At least not until Portman decides whether she'll pose with her brood on the cover of a glossy. Somehow, I don't think it's her style.
Stay tuned...
Tickled Pink
While Portman's being characteristically shy about her baby's name, pop warbler Pink has revealed the inspiration behind her new daughter's name, Willow Sage.
Pink and husband Carey Hart welcomed their daughter into the world last month.
So what's in a name?
The Raise Your Glass singer dishes in a new interview on why they chose the unusual name.
"The willow is my favourite tree. I grew up near one. It's the most flexible tree in nature and nothing can break it - no wind, no elements," she says.
"It can bend and withstand anything. I love that sentiment," she explains. "I want that for her."
She adds: "Sage is cleansing and sacred. And it sounded great together. It doesn't hurt that her last name is Hart - flexible cleansed heart."
I'll raise my glass to that.
Brawn Penn!
Sean Penn celebrated his independence from former flame Scarlett Johansson with a flesh-flashing beach frolic with new lady, Stacey Koplin, on July 4.
Just weeks after he ended his five-month relationship with Johansson, 26, Penn, 50, went shirtless and showed off his buff bod alongside Koplin on the national holiday.
Why Mr. Penn, have you been working out? Not bad for half a century.
Let's hope Koplin isn't looking for anything too serious. Word is that Penn broke up with Johansson because he didn't want to commit to a long-term relationship so soon after his divorce from Robin Wright.
Justin Timberlake and Jessica Biel: Back on?
They pulled the plug on their on/off relationship back in March, but gossip has it the former lovebirds are back for a lap of honour and giving their romance another shot.
According to Us Weekly, the exes have been "quietly seeing each other again," and were spotted together over the weekend.
"They have been talking the whole time and decided to give it another shot. Jessica really wanted to get back together with him and Justin realised single life is not what it's cracked up to be," says a source.
Although supposedly single post-split, they were both romantically linked to a string of Hollywood hotties. Timberlake with Mila Kunis and Olivia Wilde; and Biel with burly Scot, Gerald Butler.
Us Weekly also reports that the pair was also spied sharing pork tacos at the Black Hoof restaurant in Toronto on July 3. Well, that settles it. Book the church.
What say you, dear readers? Would you like to see Justin and Jessica back together?
Why George Clooney dumped Elisabetta Canalis
Yes, that old chestnut.
While there's been no official confirmation on why the silver fox dumped his former flame, friends of the former couple are only too happy to hold their hands up and blab.
Clooney's best friend in Italy, Manuele Malenotti, dishes to Chi magazine that he saw the writing on the wall long ago.
"I always knew that it wouldn't last," says Malenotti, who also claims he was the one who introduced the pair.
"I was the one who got them together. George wanted to meet Elisabetta and he asked me to make the introductions."
As for the split, "To be honest I was expecting it," Malenotti says.
"All I can say is that George, when it comes to love, has decided that he is not going to get married again and he is not going to have any children and he won't change his mind."
Adds Malenotti: "Big stars like George need people by their side to help them and they are always under immense pressure. For a partner it's never easy because everybody has their own requirements."
He also scotches rumours that the romance was a publicity stunt, and that Clooney is gay.
"I introduced them, I saw them together and I can say that their love story was very intense. In two years they shared numerous moments," he says.
"He opened the doors of his life to her, introducing her to his friends and family. I totally exclude that it was all made up...I have spent a lot of time with him and a lot of women have passed through his life. You never know in life, and men are having an identity crisis but I can tell you George is not gay."
As for Canalis, she's rumoured to be dipping her toes into the dating pool. The model was spotted partying on a yacht last week off of Italy's Amalfi Coast. And she wasn't alone...she was joined by ex-boyfriend, Angelo Vita.
Snappy yacht action here.
Blogger's Briefs
This lot just in...
* Brooke Mueller threatens over Charlie Sheen 'roast'
* James Spader joins The Office
* Glee wants Chord Overstreet back?
* Britney Spears falling for her hunky personal trainer?
* Tom Hardy talks Christopher Nolan, The Dark Knight Rises
* Is Brad Pitt inching closer to marriage with Angelina?
* Elizabeth Hurley lands guest gig on Gossip Girl
* Ripped Zac Efron flexes his muscles as he hits the beach
* Kiefer Sutherland splits with longtime love
Blogger Bites Back
* Read more celebrity news and gossip from Myrddin Gwynedd (MG) here.
P.S.
While you're down here...
Please vote for this blog again in the Net Guide Awards' Best Blog category. Voting closes August 16.
Thank you!