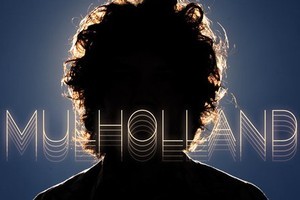 He's a bit of a mysterious one, that Jolyon Mulholland, whose back-lit spiral-haired silhouette evokes a certain album cover by the Rolling Stones.
Some might recognise him from playing in local bands The Mots and Gasoline Cowboy with his brother Greg, and collaborating with the likes of Chris Knox, Liam Finn and Connan Mockasin. They might recognise some of the nasally 60s-esque vocals, the loony lyrics, and the over-arching friendliness of the album from some of their favourite pop songs of the past four decades. They might spot bits of feisty British electro, swaggering country Americana
and quirky Kiwi folk. But it's still fresh as a daisy, despite being the product of a makeshift recording studio in a stuffy bedroom on Auckland's North Shore.
Part squealing, rabble-rousing rock (Roudanitzka), part laid back almost Muppet-sounding folk (It's Only An Illusion) and part zany, deeply textured electronica (Fairytales and Constellations), it grabs the listener from the get-go and refuses to let them go for the 11 tracks.
Mulholland manages to make his raspy vocals sound mellow, and almost drags some of the most frantic tracks to a stand-still with his sluggish lyrics. The result is complex and clever without being strained. He tells us he is taking off to New York shortly - the diversity of this album seems to indicate he took a very wise approach and decided not to put all his eggs in one basket.
Stars: 4/5
Verdict: A diverse portfolio
Buy Eugene Told Me You Were Dead
- TimeOut