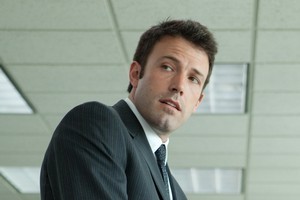 The plague of corporate downsizing is a topical story rich in dramatic potential but Hollywood gives us the smug and hollow Up in the Air, and the impending Tom Hanks/Julia Roberts vehicle Larry Crowne which is, to judge by the trailer, knuckle-bitingly awful.
Meanwhile, two good actors can't rescue the feature debut of writer-director Wells, who penned many West Wing and ER episodes. The actors, of course, are Jones and Cooper, gnarled veterans of two lifetimes of unshowy and intelligent character work. But they are weighed down by the star - the affectless Affleck, who always seems to be auditioning for a role Hanks already got - and a script that is so glib and generic it might have popped shrink-wrapped from a snack
machine.
Affleck plays Bobby Walker, the Porsche-driving, golf-mad member of upper-middle management in GTX, a Boston-based global transport firm, who is made redundant in the first reel.
Crushed by the burden of financing a lifestyle built on borrowed money - the wisdom of which the film never seeks to question - he becomes a stand-in for middle America.
But the problem is that Wells forgot to make him a character.
Whether his jaw's jutting in determination or his lower lip's trembling as he whimpers: "I'm a 37-year-old unemployed loser who can't support his family", Bobby never seems like a real person, just a type. Cooper's Phil Woodward (best line "My life ended and nobody noticed") is far more convincing, but including his story as a reflective subplot only serves to underline how Wells remains trapped in the formats of TV.
There's something faintly misogynistic about the way this film casts women either as predatory bitches (Bello, an HR hitwoman with a libido to match her amoral ambition) or spendthrift whiners (an exception is made for saints like Maggie (DeWitt) who is both lustrous and staunch, naturally).
Meanwhile, blue-collar America is not so much an economic unit as a place exhausted execs go to recuperate.
Bobby's builder brother-in-law (Costner) embodies old-fashioned virtues like shovelling cement but the job he offers Bobby turns out to be just a staging post on the way to ... well, I wouldn't want to spoil the ending. Let's just say this is not a film to ask the hard questions of global capitalism.
Jones, as a sad-eyed co-founder of the company that long ago lost its heart, gives the film moments of real heft but even he doesn't stand a chance in the welter of cliche and formula.
Stars: 2.5/5
Cast: Ben Affleck, Tommy Lee Jones, Chris Cooper, Kevin Costner, Rosemary DeWitt, Maria Bello
Director: John Wells
Running time: 104 mins
Rating: M (offensive language)
Verdict: Glib and formulaic
- TimeOut