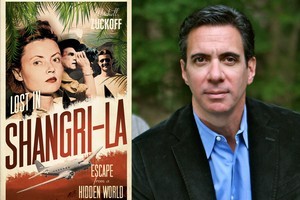 There are two kinds of readers. Those who peek at the last page and those who wouldn't dream of it.
I'm in the latter category - so resolutely, in fact, that I don't even read to the end of the blurb on the back cover of a book, in case it gives away too much.
So it's been tricky reading just enough of the (overwhelmingly positive) overseas reaction to Lost in Shangri-La to make a call on whether it was a good option for this month's book club, without reading so much that there were no surprises left.
Just making it to the end of the book's full title reveals a bit too much for my liking: Lost in Shangri-La: Escape from a Hidden World - a True Story. (You'll forgive me if I just refer to it henceforth as Lost in Shangri-La.) The word "escape" hints at what - I assume - is the ending to this story about three US Army staff who survive a plane crash in New Guinea in 1945 only to find themselves stranded in uncharted dense jungle populated by tribes who've been isolated since the Stone Age.
But that's okay - deep breath - I can accept that, seeing as this is a true story, the mystery is less about what happens and more about how it happens and to whom.
Its author, American journalism professor Mitchell Zuckoff, stumbled across a yellowed article about the doomed flight in a newspaper archive. The plane had crashed a few months before the end of World War II and, after a brief media buzz, the dramatic tale had been overshadowed by bigger events and was largely forgotten.
Now Zuckoff is getting calls from Hollywood. It's hardly surprising. Picture this as a movie: With the Allies mired in the Pacific War, 24 high-spirited US Army staff take a plane called the Gremlin Special for a joyride from their base in what's now the Indonesian province of Papua. Their destination is the "Hidden Valley", a plateau of mountainous rainforest dotted with villages in which - they believe - live fearsome tribes of giant headhunter cannibals who've never before seen a white man.
I'll let Zuckoff tell the rest: "To the ear-splitting din of metal twisting, glass shattering, engines groaning, branches snapping, fuel igniting, bodies tumbling, lives ending, the Gremlin Special plunged through trees and slammed into the jungle-covered mountainside."
Only three survive: a handsome and capable lieutenant whose twin brother died in the crash, a stoic sergeant with a gaping head wound and a beautiful and stroppy corporal of the Women's Army Corp.
They know their chances of rescue are slim. The nearest Allied base is 240 km away through mountainous jungle that conceals warring local tribes and Japanese soldiers. As they battle starvation, gangrene and grief in inhospitable terrain, their compatriots launch an ambitious search plan, fearful that the "cannibals" will get there first.
The New York Times has called the book "breathless", the UK's Independent an "entertaining, enjoyable page-turner" and Entertainment Weekly "a grippingly cinematic account".
But if, like me, you don't like the story to be given away, don't read the reviews. Don't even read the blurb on the back cover (I've read two paragraphs of it and that was too much). Just read the book. So far I can report (without giving anything away) that it's a cracker of a tale.