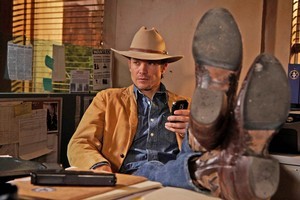 Rednecks are very chic. You might qualify as a redneck when you can spit without opening your mouth, your wife weighs more than your refrigerator or you've ever shot somebody over a mall parking space. But in TV-land, never mind all that, because being a redneck means you're cool.
"Redneck noir" is the hottest new television genre and Deliverance-type hicks are totally on trend.
TV One's contemporary western, Justified, about a US marshal in the backwoods of Kentucky, is just the latest in a series of hit shows (True Blood, Sons of Anarchy et al) set in white-trash world where everyone drives pick-up trucks and drinks straight bourbon for breakfast. I normally find this kind of thing just a bit too grimy, but Justified is classy not crass and I liked it a lot.
Of course, it helps that it is adapted from the crime writing of gritty genius Elmore Leonard. We can probably thank him for lines like: "Let's keep it simple. He pulled first. I shot him" and "You make me pull, I put you down".
Justified's creator Graham Yost and the show's other writers had bracelets made that state WWED - What would Elmore do? They must have worked. Leonard approved of the final product and he doesn't sound like he is generally an easy dude to please.
"Last season amazed me. I sat on the couch on Tuesday nights thinking it's better than I could have written it," he has said.
It also helps that Justified has Timothy Olyphant (of Deadwood fame), who plays modern lawman Raylan Givens with all the sexy aplomb of a young Clint Eastwood.
With his Stetson and his ominously softly-spoken manner, he is simply one cool dude. As the San Francisco Chronicle put it: "You find yourself liking him more every time he pulls the trigger." The story is that after shooting a bad guy, US marshal Givens is banished from big city Miami to Harlan, his former home in the wops-wops of Kentucky. Harlan County is a meth- and welfare-gutted coal mining community and Givens comes face-to-face with a past he'd rather forget.
In Thursday's pilot we don't get the backstory coloured in but there are plenty of hints of interesting trauma and moral ambiguity in Givens' background, including his "outlaw daddy" and beautiful ex-wife Winona (Natalie Zea). Givens will be a tortured and intriguing character. How did he get to be so fundamentally decent when he grew up around gun-toting bigots and a father who stole mining machinery and swapped it with Colombians for cocaine?
He might seem ice-cool but that just makes us more curious to see what fire burns inside. "I guess I just never thought of myself as an angry man," Givens says. Winona: "You do a good job of hiding it. Honestly you're the angriest man I've ever known."
Justified débuts on TV One, Thursday at 9.30pm