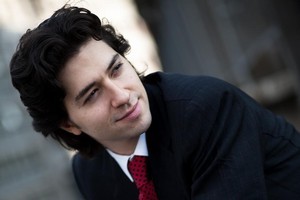 Sergio Tiempo's Friday concert in Auckland Museum's Fazioli International Piano Recital Series delivered bling, blitzkrieg and beauty.
The programme had been arranged around that supreme showman of the instrument, Franz Liszt, whose bicentenary, incidentally, seems to be slipping past unnoticed by most of our concert organisers.
We set off with the Hungarian's three Petrarch Sonnets. No surprise that Tiempo, who duelled so dramatically with Auckland Philharmonia Orchestra the previous evening, was Senor Volatile.
When he was soft, he was very, very soft and when he was loud he was deafening. Sometimes, continuity was compromised.
A dramatic segue into Beethoven's Moonlight Sonata saw Tiempo pedalling an evocative haze through the first movement.
Alas, cataclysmic sonic storms later on managed to detune a C sharp, its unseemly twangs undermining the quieter moments in Ginastera's Three Argentinian Dances.
The more extrovert dances survived, with the whooping malambo fury of the Danza del gaucho matrero pressing the first half of the evening to a close. After the interval, some may have felt a little too much gaucho spirit was lingering in Tiempo's Chopin Etudes. The arpeggios of Opus 10 No 1 were energetically fired off but not without some awkward shifts.
A finely articulated Opus 10 No 7 that acknowledged the influence of Schumann on Chopin's writing seemed to come from another pianist than the one who would have Opus 25 No 9's butterflies fluttering over a tavern-band backbeat.
For all this, there was also poetry. The evanescent sheen of Opus 25 No 2 was captivating and Opus 10 No 6, taken very gently with misty pedalling, was an impressionistic Tristan.
The consensus at encore time (we were asked from the stage) was for a return to South America, and Tiempo dashed off a party piece of a Venezuelan gallop.
Purists may have been discomforted by some of the liberties taken, but this recital was certainly a provocative and polarising take on a genre that can often be the epitome of academic reverence and caution.