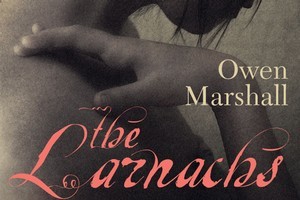 Anyone glancing at the three books currently stacked on my bedside table would suspect a pre-occupation with love affairs.
I've just finished Anne Enright's brilliant new novel, The Forgotten Waltz, featured in our May Fiction Fix.
In this darkly comic anatomy of an affair, Enright writes with remarkable clarity of the minutiae of forbidden love, the attraction and the repulsion, the thrill and the drudgery, the sweetness of longing and the bitterness of betrayal.
Pondering such things led me to revisit an old friend, Graham Greene's The End of the Affair. No sooner had I picked it up, than July's feature book landed in the letterbox. I've chosen The Larnachs by Owen Marshall, yet another tale of an illicit love affair.
William Larnach was a well known New Zealand businessman and politician, serving as the equivalent of the Minister of Finance under Premier George Grey.
He built Dunedin landmark Larnach Castle as his personal residence, referring to it affectionately "The Camp".
But Larnach is also well known for his demise. Facing financial ruin and personal scandal, Larnach shot himself in a committee room at parliament in 1898. The scandal that is widely believed to have tipped him over the edge was the love affair between his much younger third wife Constance, and Douglas, his son by his first wife.
The Larnachs is the story of Conny and Dougie, told in their alternating voices. The setting is the cold and (at the time) isolated Larnach Castle, where Dougie was in charge of the estate.
Conny was only seven years older than Dougie, so while it is perhaps not surprising that an attraction developed, in the conservative Otago society of the late 19th century, such an affair would have been shocking indeed and the consequences unthinkable.
Writing in the Herald on Sunday, Kelly Ana Morey described The Larnachs as "a muted and emotional journey through a repressed and somewhat unrealised relationship. In short, it's a grown up love story of people trying to be as unselfish as possible with a very clear view of society and its judgements."
For Morey, it was Marshall's "very deep and beautifully realised understanding of human nature that made this novel work".
Meanwhile, over on Beattie's Book Blog, Wellington-based writer Maggie Rainey-Smith described The Larnachs as a "riveting recreation of a particular era".
"Marshall has bravely re-imagined a grand passion amid the constraints and conventions of another century", writes Rainey-Smith.
So with that, it seems I am compelled to continue my literary exploration of adultery and the bonds of marriage. But of course, this pre-occupation is not mine alone. Some of English literature's most loved works have explored this terrain, from D.H. Lawrence in Lady Chatterley's Lover, to F. Scott Fitzgerald's The Great Gatsby and Tolstoy in that apparent masterpiece still languishing on my shelf of shame, Anna Karenina.
What makes The Larnachs a little different is that it's a tragedy of Shakespearean proportions that took place on our doorstep. Ambitions and rivalry, political intrigue and personal drama, told by one of New Zealand's best known writers.
Winter seems like the perfect season to run away to a gloomy castle and a dramatic landscape. So stoke up that log fire and let's get reading.
Care to join me? This month we are giving away three pairs of our feature books, The Larnachs and Lost in Shangri La by Mitchell Zuckoff, which Bronwyn will be introducing on Tuesday.
One is fiction based on fact, the other is non-fiction but almost too incredible to be true. To be in to win these two titles, tell us whether you prefer reading fiction or non-fiction (by midday, Thursday 7 June), and why. Enter here.