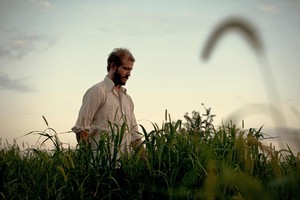 Following the stunningly spare 2008 debut, For Emma, Forever Ago, which folkie singer-songwriter Justin Vernon recorded by himself in the woods of Wisconsin, it's not as if he's come up with a tour de force folk record as a follow-up.
But he has come out of his log cabin shell, that's for sure. Which might have something to do with his collaborations with Kanye in the intervening years - or perhaps he's got a taste for the success that first album garnered him, because Bon Iver is more engaging and immediate.
What's perhaps most intriguing about the new album is getting your head around what exactly he is up to on last track, Beth/Rest. There's an obvious Bruce Hornsby and the Range comparison to be made, but it's a combination of many things: a little Arthur's Theme by Christopher Cross, there's a trebly Total Eclipse of the Heart classic 80s hits mood to it, but with Vernon doing his most earnest TV on the Radio vocal impression. It's oddly addictive.
Elsewhere, and as on For Emma, Bon Iver smoulders with fragility and there are moments of subtle abrasiveness, but it's not until the welcome outbreak of swingin', thigh-slappin' country on Towers that the difference between the two albums really hits you.
It is fuller, with more players and instruments, including delicate and dusty pedal steel, swooning strings, and plenty of quietly wonky saxophone on Michicant.
But even though there is more to it, Vernon is a minimal folk master, with songs like opener Perth and the beautiful Calgary agitating wildly, and almost disintegrating, while retaining perfect poise.
Stars: 3.5/5
Verdict: Another stunner, but less was still best
-TimeOut