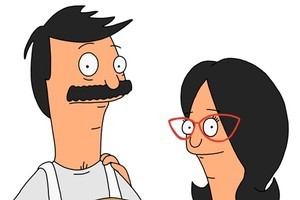 It's a big night for fans of grown-up animated comedy, with Four kicking off new series for three of its cartoon shows, and introducing another to its line-up.
Its "Outrageous Four Toons" Thursday-night schedule starts with the third Family Guy parody of Star Wars.
Having reinvented the first two films of the original trilogy, It's a Trap takes on Return of the Jedi in this hour-long special, which also acts as something of a crossover with its cartoon contemporaries, with characters from American Dad! and The Cleveland Show taking on various roles.
The original Princess Leia, Carrie Fisher, is among the voices, as is Adam West, Patrick Stewart and Michael Dorn (reprising their roles of Captain Jean-Luc Picard and Lieutenant Commander Worf from Star Trek: The Next Generation). Conservative US broadcaster Rush Limbaugh also stars.
A new series of Family Guy continues in the same time-slot next week. Also starting tonight are new seasons of long-stayers Futurama (8.30pm) and South Park (9.30pm).
In between them, though, is Bob's Burgers, a new series that might be from the Fox stable like Family Guy and The Simpsons, but has a distinctive deadpan humour and low-key pace that may remind some of King of the Hill.
Animation fans with fond memories of the short-lived, but cult-appeal psychiatrist comedy, Dr Katz, might find plenty to like here - Loren Bouchard, the creator of Bob's Burgers, was a writer and producer for Dr Katz, and actor H. Jon Benjamin, who voiced the doctor's slacker son, Ben, brings his rumbling tones to Bob, a husband, father and business owner trying to make a go of his struggling burger joint.
Louise, his youngest, smartest and most mischievous child, is voiced by Kristen Schaal (Mel in Flight of the Conchords). Her siblings are crude older brother Gene (Eugene Mirman) and oddball sister Tina (Dan Mintz). The raft of supporting characters include Kevin Kline. He voices Bob's landlord Calvin Fischoeder, an eccentric local businessman with a stake in just about everything in the neighbourhood, and who Louise describes as "one white cat away from being a supervillain".
When: Tonight, 7.30 & 9pm
Where: Four
What: Animation station
-TimeOut