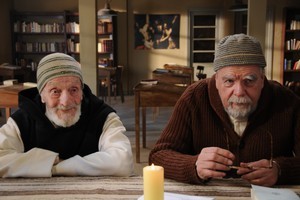 MOVIE
As well as a major film starring alien robots now showing in 2D and 3D, there are a few foreign gems to check out this week (ahead of the international film festival), including Of Gods and Men, a French drama which took the Grand Prix Award at the 2010 Cannes Film Festival.
It's based on a true story about Trappist monks who lived happily among the Muslim fundamentalists in Algeria until seven were beheaded. Noomi Rapace hangs up her Girl with the Dragon Tattoo leathers and piercings to star in another Swedish drama Beyond alongside her husband Ola Rapace.
And Daniel Auteuil stars in French romantic drama Someone I Loved as the father-in-law of Chloe (Florence Loiret Caille) who is dumped by her cheating husband.
MUSIC
For some, it's the university holidays, and bored students are encouraged to use up their energy at dance parties like Deep, Hard and Funky at Ellerslie Event Centre and Lifted at Area 6 in Newmarket on Saturday night.
If that ain't your thing spend an intimate evening with R&B and gospel singer-songwriter Brian McKnight at the Civic tonight.
Or lend your support to local radio station Base FM, a growing community of hip-hop, funk and heavy bass enthusiasts, who are fundraising for a transmitter that will help them get their sounds to the Northern beaches of Leigh, Matakana and Omaha by summer. Rakinos is hosting a soiree of 10 DJs for $5 on Friday.
TV
Just as the snow situation is looking a little more promising , so is this week's winter television line-up. Firstly, the stuff you might tssk at but will probably secretly indulge in: Geordie Shore, the British version of Jersey Shore on MTV at 8.30pm on Tuesday, while Audrina Patridge gets her own reality show, imaginatively titled Audrina, on Wednesday at 9.30pm.
Four launches its new season of animated comedies tonight, with new seasons of Family Guy, Futurama and South Park as well as a new series, Bob's Burgers.
For something a little more serious, it's a great week for documentaries tackling issues to get you all hot under the collar (smoking, leaky homes). As well there are looks at the life and times of Sir David Attenborough (8.30, Sunday, Prime) and how Paul McCartney recorded his classic 1973 Wings album Band on the Run (9.35, Tuesday, Prime) in Nigeria.
OR...
Let's go fly a kite! And no, we don't mean a flax bag. The Manu Aute Kite Day, as part of Matariki at Orakei Marae from 10am until 5pm, will send colourful kites into the sky to welcome in the Maori New Year, and there will also be workshops, storytelling sessions and kapa haka performances.
- TimeOut