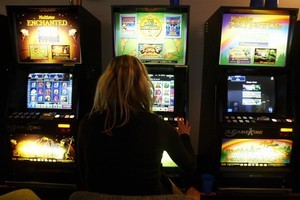 The arts sector takes an average of $9.5 million annually from gambling machines to fund grants.
The arts could learn a lot from pokie machines. How do you calibrate your lights-and-whistles jiggery-pokery to keep your audience mesmerised?
How often should you change your payout algorithm so people keep coming back, convinced a jackpot climax is always just around the corner? How do you make people pay, even though they can't afford it?
Actually, many arts organisations don't need to learn that last one - they've already got the pokies doing it for them. Over the past few years, the arts sector has taken an annual average of more than $9.5 million from the one-armed bandits.
Around 40 per cent of that money comes from the back pockets of problem gamblers, according to the Problem Gambling Foundation. Most of the money comes from people on low incomes.
Nearly four-fifths of problem gamblers use pokies as their primary mode of gambling.
So it's not an exaggeration to say that money that should be feeding poor kids is paying for theatre advertising instead. Pokies are a problem because they're designed to be a problem. The social harm of electronic gaming machines always outweighs the benefits, no matter what good causes the money goes to - and some of them are my favourite good causes.
Those good causes, many high-profile, are being used as white-washing, tainting their own brands in the process. They say "grants"; I say "sponsorship": pokie trust logos go on programmes and posters, and glossy pokie trust annual reports and self-congratulatory websites crow about the organisations funded. For every $3 lost on a pokie machine, roughly only $1 "goes back" into "the community", that cuddly unified all-together euphemism making it okay to give to one group when there is unaffordable loss elsewhere. Why isn't all the money going to mitigate gambling addiction harm?
And now SkyCity wants to add to its 1647 pokie machines in return for a conference centre.
The SkyCity Community Trust's "grant" recipients include many worthwhile arts groups. Some realists (or cynics) apply specifically for arts projects for students in low decile schools. They're fantastic projects - which is why they deserve to have funding which can be relied on, not dirty money from an unstable source.
There are probably arts groups out there hoping the law-buying deal goes through; more gaming machines should mean more money up for grabs. In fact, if any trust grant recipient hopes the deal doesn't go through then what are they doing on the SkyCity payroll, helping to hide the social cost of the deal?
I know what they're doing there. They're thinking "if we didn't get this funding, someone else would".
But if they instead loudly joined the number of associations who are proudly free of pokie funding, that would send a strong signal, saying, "Although the system expects us to, we will not build our good work on exploitation of gambling addiction. The pokie industry needs to be more efficient, fair and transparent."
It's a timely message with a clear target as Parliament edges towards a conscience vote on Te Ururoa Flavell's Gambling Harm Reduction Bill.
Cutting off a funding stream is easier said than done, but the Problem Gambling Foundation has a few tips on no-pokies fundraising. And really, we should be moving towards getting rid of the misery-making machines altogether. If the change is managed carefully, other funding sources will grow to fill the gap, just as they did when tobacco advertising was banned. And our whole "community" would be happier and healthier for it.