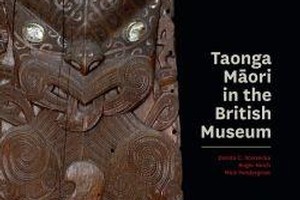 The British Museum in London is one of the world's great repositories of human culture, being home to the Rosetta Stone, the Elgin Marbles and other priceless objects from every country and including no fewer than 2351 artefacts of Maori material culture, the largest such collection outside New Zealand.
A large exhibition entitled Maori was drawn from this collection in 1998. It was preceded by a significant book published in 1996, Maori: Art and Culture, focusing on the museum's collections. In her editor's foreword Dorota Starzecka wrote about ongoing research involving New Zealand and British scholars, saying: "When it is finished and published as a definitive catalogue of the British Museum's Maori collections ... it should be a valuable source of information for anybody interested in Maori culture, but most of all for the Maori people themselves who will know exactly what taonga there are in the British Museum and what is known about them."
Now, 15 years later, the book has appeared, documenting in text and photographs every one of the more than 2000 items.
Each item is shown either in a colour photograph or in black and white. To take a random specimen, the poupou (wall carving) illustrated on the cover gets a full-page colour photograph and a paragraph of description, drawing attention to its most significant features, including the kowhaiwhai patterns on the forehead, the spiral patterns on shoulders and hips, the three-fingered hands, one holding a wahaika (club), and the small wheku figure between its legs.
Its provenance is given (Lady Sudeley Collection), its tribal source: Arawa, Ngati Pikiao, and its estimated date (mid-19th century). Similar entries cover every aspect of the amazing richness of Maori material culture. Clearly this monumental reference book is not intended for the casual reader, but will be indispensable for students and scholars.
Te Papa Press has also published a thorough and well-written analysis by Conal McCarthy of the history and ethnography of the representation and involvement of Maori in New Zealand museums. It will be invaluable to anyone involved in this sometimes fraught and rapidly evolving field. Some will be pleased by the evidence these books provide that our national museum is something more than a theme park.
* Peter Simpson is an Auckland reviewer.
Taonga Maori in the British Museum, by Dorota C. Starzecka, Roger Neich and Mick Pendergrast
Te Papa Press $99.99
Museums and Maori: Heritage Professionals, Indigenous Collections, Current Practice by Conal McCarthy
Te Papa Press $69.99