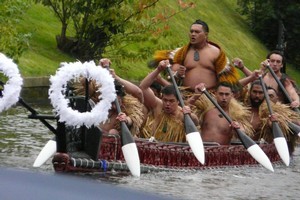 From northern Europe to India and Japan, during the past decade the City of London Festival has highlighted music and culture from around the world.
Founded in 1962, the long-running international arts celebration has saved the best till last for this year's 49th annual event, which showcases the work of composers and musicians from New Zealand, Australia and the South Pacific.
"For the past several years, we've had an ongoing theme of Trading Places, which reflects the City of London's 2000-year-old history as a major international trading place," says festival director Ian Ritchie.
New Zealand holds a special place in Ritchie's heart as his great-grandfather emigrated from Scotland to Dunedin in the 19th century.
"My grandfather was born in New Zealand so I'm a bit of a secret Kiwi," he laughs. "All the male members of the Ritchie family stem from New Zealand and I have many more cousins there than here in Britain.
"For me, we just had to explore New Zealand at some point in a strong and powerful way."
Ritchie visited New Zealand early last year, attending the International Arts Festival in Wellington, where he saw concerts by the NZTrio and the New Zealand String Quartet.
"I went there with a view to finding the best and most suitable work for the festival," he says. "I also wanted to set up some partnerships. Although we are a major festival, we don't have access to many great symphonic spaces or theatres except through partnership.
"When I met the Royal New Zealand Ballet, I very much wanted to find a way to broker a visit for them because they were very successful when they were in London a few years ago. In that case, I managed to set up a partnership with the Barbican, which has the facilities and capacity to take a dance company."
(The RNZB will perform their triple bill From Here To There in London, Cardiff, Nottingham, Bradford and Sisteron in France. The company tours from July 8-23.)
In the London Festival, alongside the NZSQ and NZTrio, singers and musicians such as Jonathan Lemalu and Anna Leese will perform original pieces by New Zealand composers such as John Psathas and Gareth Farr.
"There's a really vibrant composition scene in New Zealand and I was really impressed during my New Zealand trip by just how much really interesting work was being written," says Ritchie, who is especially proud to stage the world debut of Lyell Cresswell's Kotetetete.
"It was actually commissioned for and by New Zealand but we've managed to secure the premiere for London before it makes its way back home, which is rather nice.
"It's all part of the exchange. We're in the fortunate position of giving the first outing to something that is going to end up toured all around New Zealand."
July 4 will bring the inaugural European performance of pianist Stephen de Pledge's ambitious Landscape Preludes, made up of miniatures by 12 leading New Zealand composers including Gillian Whitehead, Victoria Kelly and Jenny McLeod.
Richard Nunns will demonstrate traditional Maori instruments while London Maori group Ngati Ranana will sail a waka down the River Thames and participate in the Origins Family Day on Hampstead Heath.
"One of our abiding themes has been environmental," says Ritchie. "It's impossible to explore New Zealand music and creative arts without being aware of how not only Maori but everybody involved is somehow tapping into the landscape, the natural environment and wildlife.
"We're making a feature this year of birds and birdsong, and how birds are nature's musicians."
Instead of using standard auditoriums, the festival makes great use of the financial district's numerous historic buildings, including its Livery Halls - some of which, such as the Girdler's Hall, maintain ties with New Zealand. "They would have made belts and equipment for armories," says Ritchie. "They had an ancient, medieval reason for being and they also have a relationship with New Zealand that stretches back 80 years."
Located near St Lawrence Jewry, a church popular with Kiwis, the bond dates back to a chance encounter in 1932. "After a service, the guests needed somewhere to go for a cup of tea so the Girdlers invited them in," says Ritchie. "It created not only an annual tradition but Girdler's scholarships and fellowships have also come out of it."
Ritchie boasts a family connection with the Kiwi-friendly Butcher's Hall, which will host NZTrio and Nunns at its inaugural festival event. "My great-grandfather went down to New Zealand to become a land and shipping agent, and he was very much involved in the first shipments of lamb, meat and wool to this country," he says of his descendant, who went on to form the National Mortgage Agency and later Fletcher Challenge. "That shipment fetched up here and there's a replica of the vessel, The Dunedin, in the hall itself."
As London's only floating livery hall, the Master Mariner's headquarters HQS Wellington will also make for a spectacular venue. "The ship is named after the city of Wellington and it had a very honorable service with the New Zealand Navy. On board are these wonderful artefacts, maps and pictures."
Ritchie says there will be a Kiwi element to next year's 50th anniversary of the festival. "[There] will hopefully be a diverse menu that shows some of the fruits of the collaborations we've had in recent years. That will include New Zealand."
Festival
What: City of London Festival
When: June 26-July 16
Online: www.colf.org